Most years, we design and make our own Christmas Cards.
---
2021: A background image was printed on the card, which was then embellished with various stickers etc: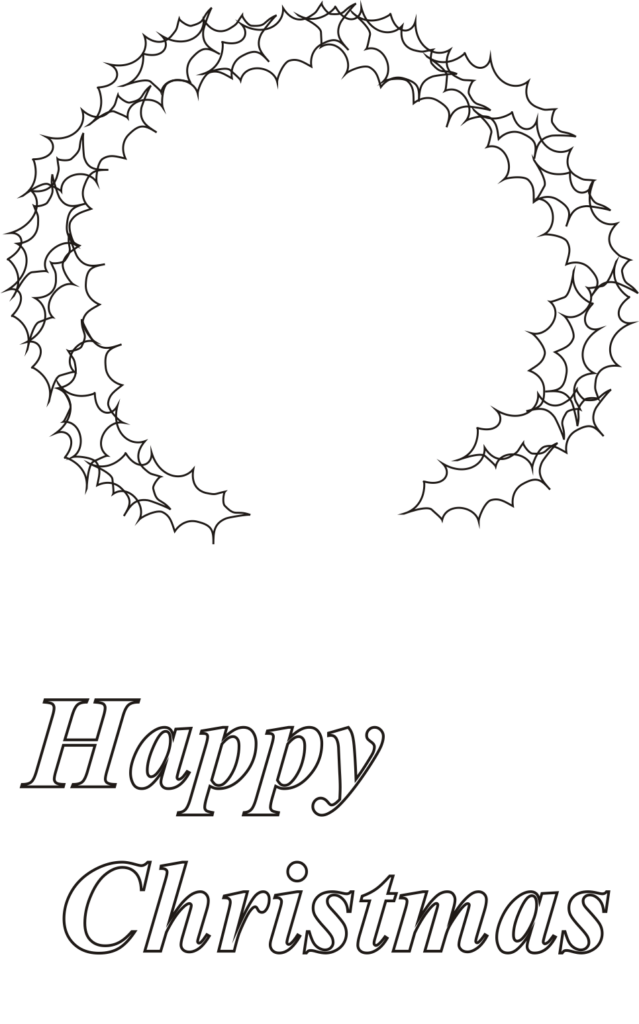 ---
2020: The coloured parts of this were scanned from die-cut images: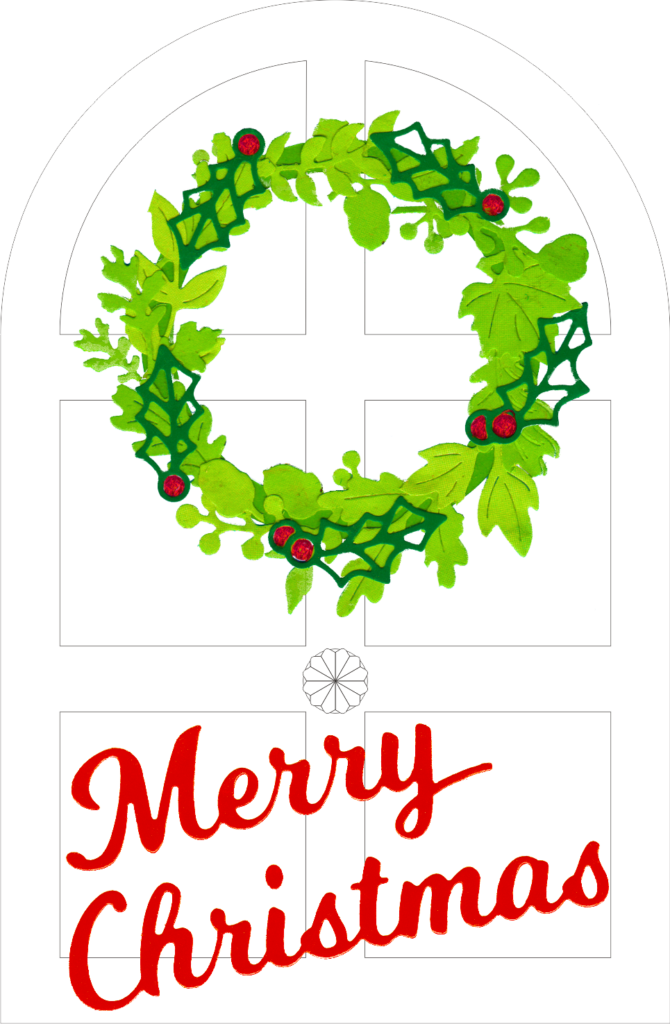 ---
2019: Another Tina original, inspired by some designs we saw in Switzerland this year:
This is our first monochrome Christmas Card – it was printed on cream paper.
---
2018: A Tina original: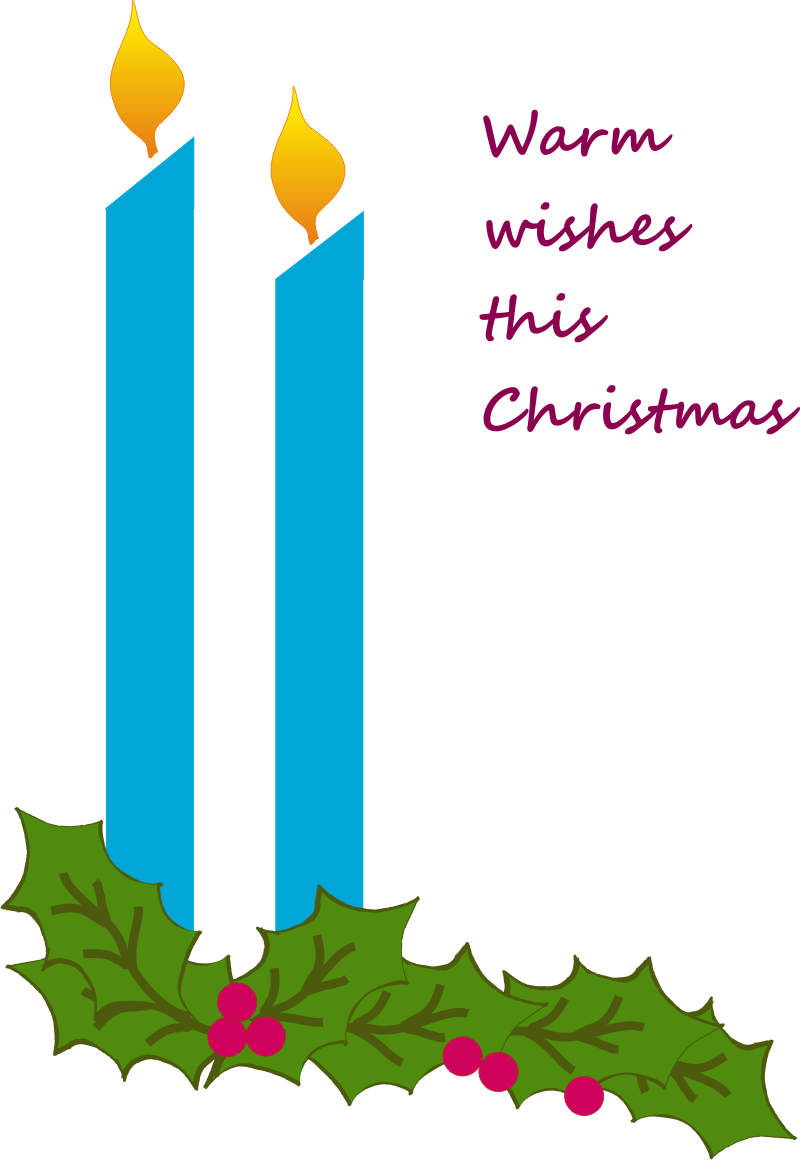 ---
2017: Yet another Tina design, with some help from Phil:
---
2016: Another Tina design, with help from Gemma: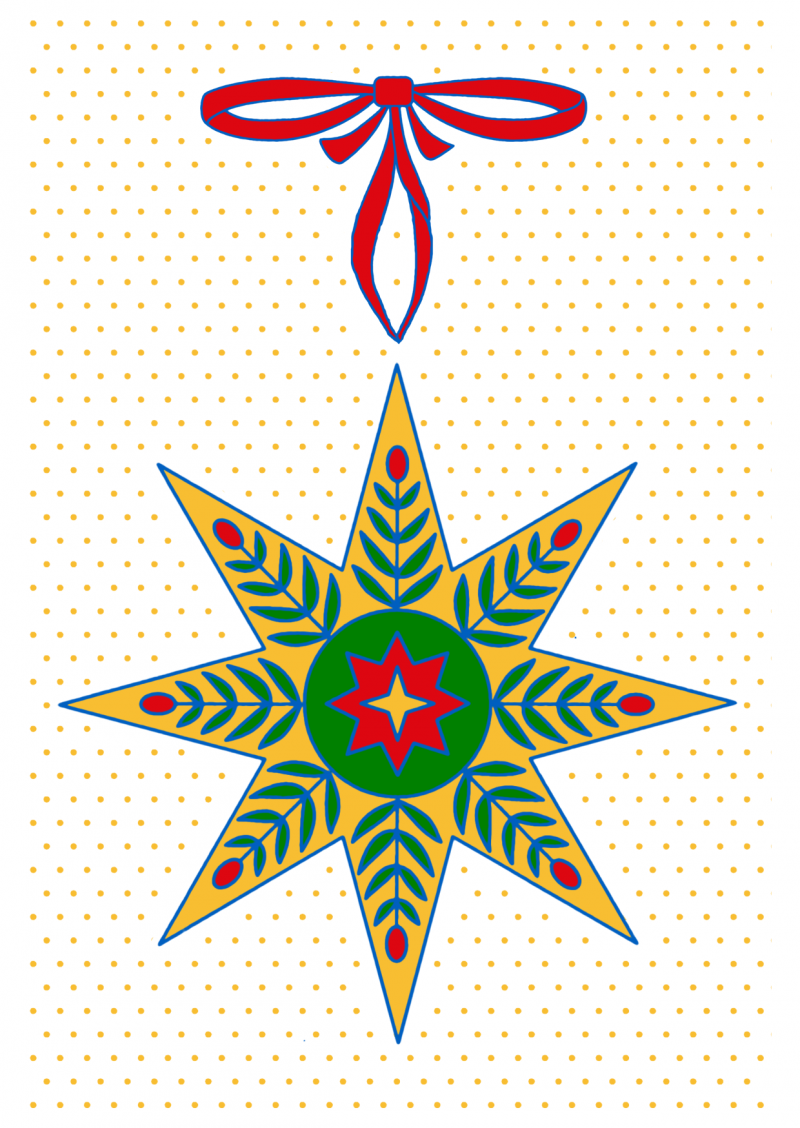 ---
2015: A Tina design:
---
2014: Our card this year was based on an original design by Ray Parkhouse, digitally coloured and tweaked by various family members:
---
2013: When Tina was going through some of my father's things earlier this year, she found a scrapbook from the time my parents spent in Singapore in the early fifties. One of the items was a Christmas card, with this picture on it, painted by our dear, late friend, Derek West. So she used the picture this year, in his memory and that of my father, Raymond Parkhouse 1920 – 2013: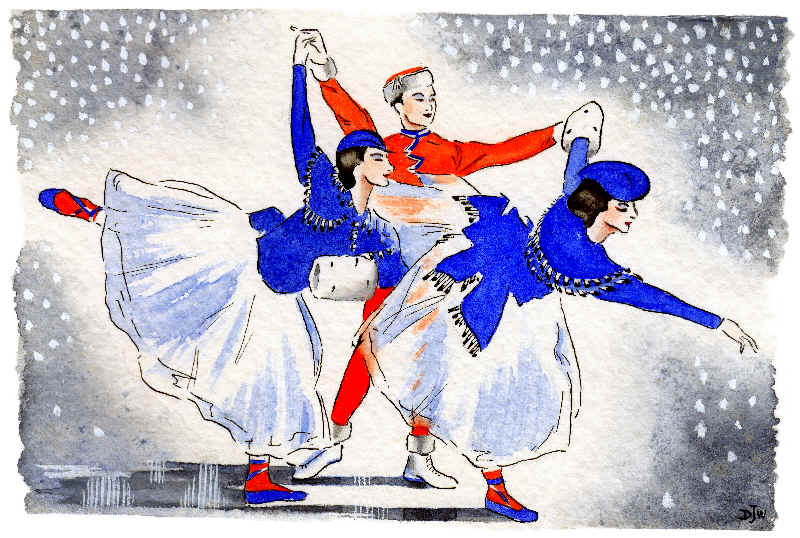 ---
2012: Tina did the design for this card:
---
2011: Gemma did the drawing for this card:
---
2010: Gemma did the drawing for this card:
---
2009: Tina did the drawing for cards:

Have you never wondered who looked after the sheep while the shepherds went to Bethlehem?
---
2008: Tina did the drawing for our Christmas Cards:
---
2007:Gemma used her computer to do the drawing for our Christmas Cards:
Gemma also drew the picture for her own 'personal' cards: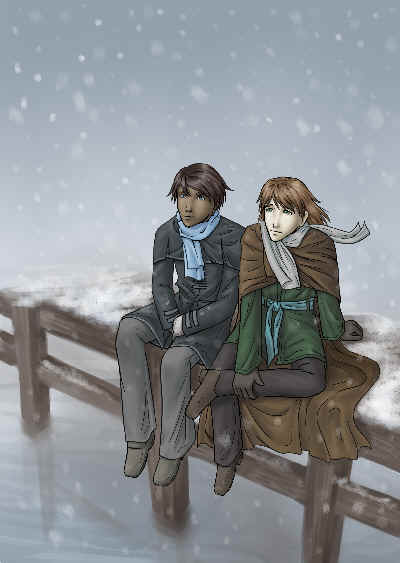 ---
2006: It was Tina's turn to do a drawing for the family Christmas Cards: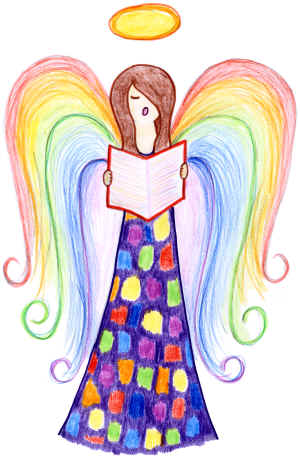 Lucy made her own cards from a drawing she did on the computer:
---
2005: For our  Christmas Cards, Gemma again produced the basic image for the front of the card. We used a tall thin card and then stuck a "3D" star on in place of the printed one shown here.

Lucy then draw a candle and wrote a poem for the inside:

Another log onto the fire,
Another frost upon the ground,
Another blanket on the bed,
Another Christmas rolls around.
---
2004: We were able to modify some drawings that Gemma had already done for a school project. She has a small drawing tablet on her computer, which allows artistic drawings to be created electronically, avoiding all that tedious messing around with bits of paper and scanners!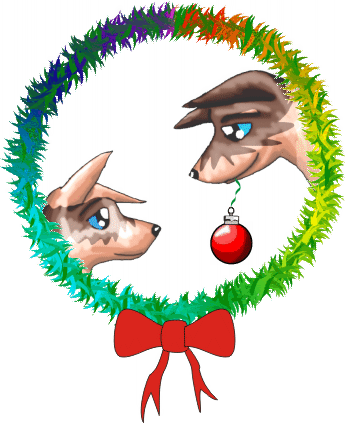 ---
2003: Tina drew a basic picture which was scanned and then embellished on the computer to produce this: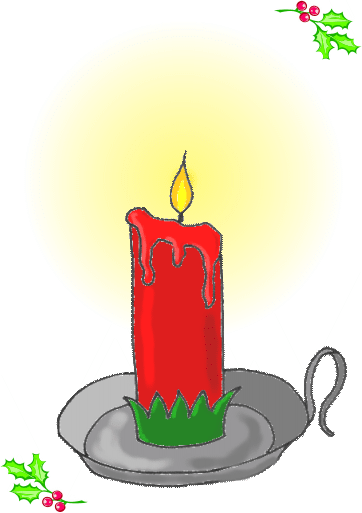 This image was far too simple for the girls, who decided to produce their own card instead: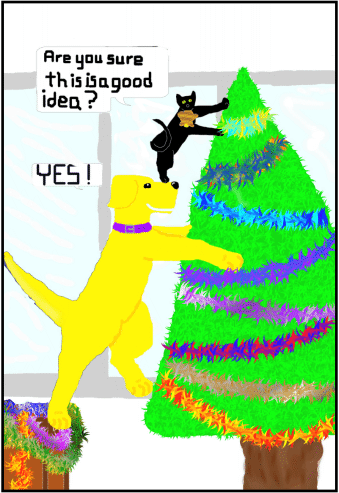 ---
2002: We locked Gemma into a draughty garret until she had done a satisfactory drawing. This was then embellished on the computer and became the front of the card:
Not to be left out, Lucy did a poem and a drawing for the inside: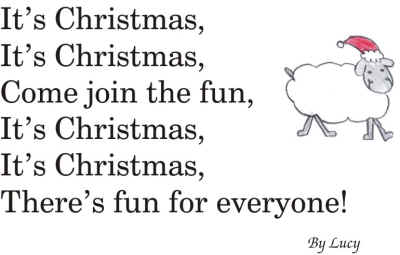 ---
2001: We first had to try to get each of our pets to sit still long enough to take a sensible photo of them. Gemma then drew their adornments, and a bit of cut and pasting later, we had this:
---
2000: The main design for our Christmas Card was based on this drawing by Gemma: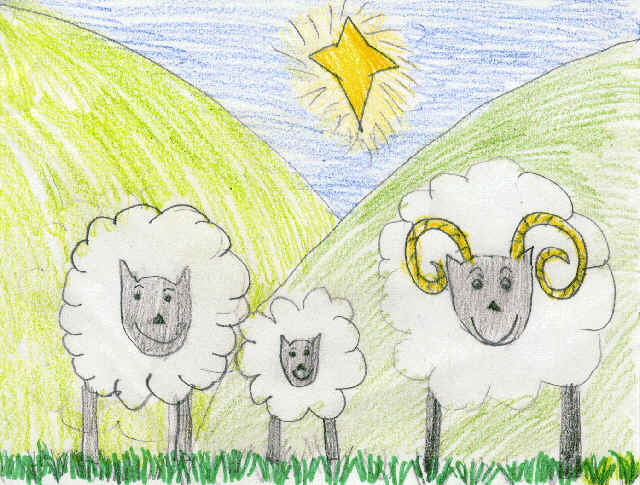 This was scanned into the computer, then "mangled" by software to look like this: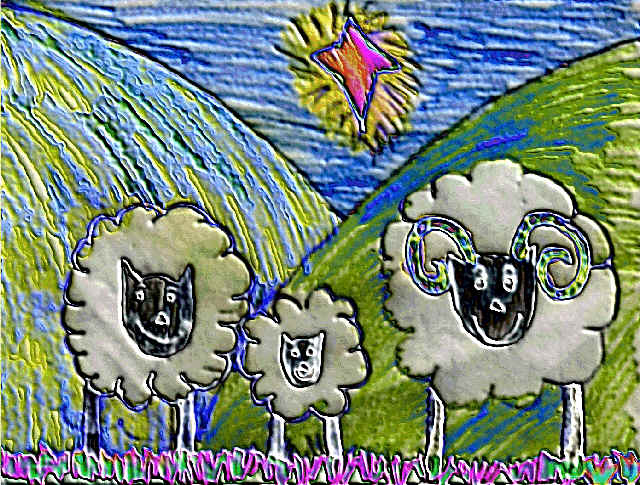 So as not to be left out, we also included this drawing by Lucy inside the card:
---
1999: Three different designs were produced from scanned collages made by Gemma and Lucy: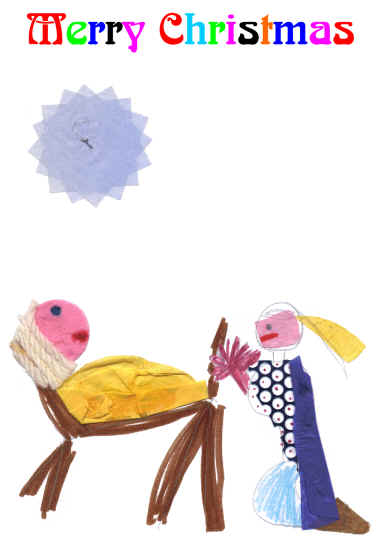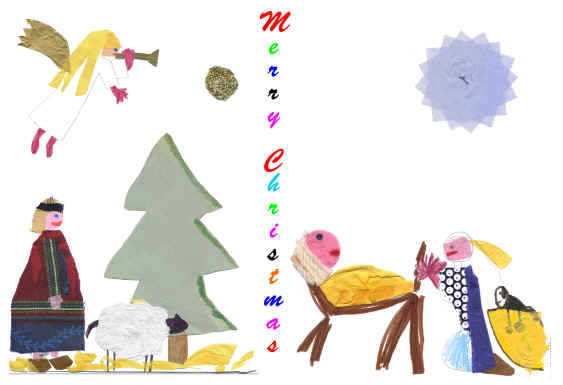 ---