The Main Event
The main event for us this year was our second sprog, Lucy Jane. As most people know, she was born on June 7th at 23:36 by 'normal' delivery, though somewhat more rapidly than the medical staff expected. Quite nice to have both daughters sharing the same birthday! We have constantly been surprised at how different the two children are; Lucy needed to start weaning very early, and has a voracious appetite, whereas Gemma was (and is) a much more delicate eater. Lucy is also much stronger; at three months, she could hold her own weight and has a tremendous grip. One of the many side effects of this event is that Tina is now a full time mother.
Big Sprog Update
Gemma is growing up fast, and now goes to Playschool / Playgroup three mornings a week. She seems to really enjoy it, especially the large variety of different activities the organisers manage to dream up. Makes home life seem rather boring by comparison!
She can now count up to twenty without too much trouble, and has a surprisingly large vocabulary, though of course our opinions are probably biased! She is also getting to the "Why is…" stage, which keeps us on our toes. Unfortunately, she occasionally takes after her father, and can be a bit of a handful at times, but still more than makes up for it when she is helpful and nice.
She moved out of her cot into her own bedroom (and bed) in January, and seems to have spent the rest of the year covering the entire floor with toys, bits and pieces.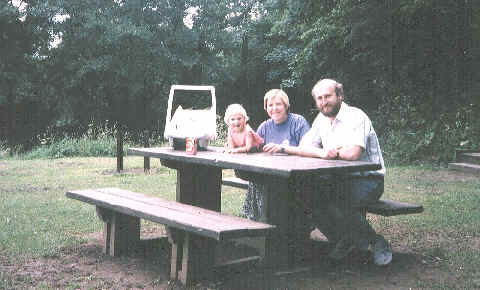 Work News
The business is still thriving, but takes up a lot of time, increasingly during evenings and weekends. The actual work continues to be interesting; the CD player has now been developed into a portable audio player for use in museums, and is starting to be made in large quantities. The work for the Fire Services is also keeping us busy, with many counties in Britain now using our designs.
Our Holidays
Slightly more activity on the holiday front this year; we again escaped for the New Year with our regular group of friends to what looked like a haunted Gothic mansion in Llanfairfechan, on the North Wales Coast. Luckily it was a large and fairly normal house except for a living room the size of St. Pauls Cathedral and a kitchen the size of our toilet. Had a nice week with surprisingly little rain for Wales.
We had to miss our regular camping week in May due to Lucy's arrival, but managed to get away in August to a nice cottage in Solva, on the Pembrokeshire Coast. As Lucy was still only weeks old, our activities were a bit limited, but managed to walk part of the Coast path and build sandcastles on the beach. Gemma was delighted by a sand pit over ½ mile long and finally got the hang of splashing in the waves!
Our final holiday was a week in September, this time in a cottage in the New Forest with another family. One of Gemma's highlights was getting a 'fairy' (ferry) boat to the Isle of Wight. Our memories were of woodland walks and pubs, need we say more!
The House
Following last years burst of activity doing the loft conversion, this year has been a lot quieter. The hall and landing have now been redecorated (we had to use a decorator; I had run out of time!) and recarpeted, which has erased the final signs of the building work and mess.
We are adding a Conservatory to the back of the house next year, which will act as a much needed porch for the back door and an area to watch the weeds grow in the garden, We might even persuade Gemma to leave her toys there instead of all over the rest of the house.