Gemma & Lucy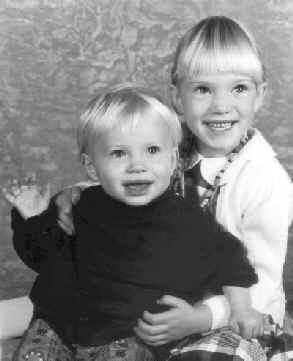 Gemma is still growing up fast, and often seems much older than the 4½ she is. Since September, she goes to Playschool or Playgroup five mornings a week, and from January, will start real school. Only seems such a short while since she was a baby!
Life is not always easy with Gemma – it seems to be always on the extremes, either a lovely, helpful, interested child or a total ratbag.
Typical expressions are "I WONT","Get me a drink NOW" etc. But, she will happily spend a whole afternoon painting or drawing and often returns from playgroup with an armful of drawings and 'glueings'.
In a year, Lucy has changed from a squalling baby to a walking, almost talking, fingers in everything, toddler. Possibly using Gemma as an example, she seems to be doing everything much earlier than her sister, and has a very different character, though that stubborn streak is becoming increasingly visible!. She learnt how to climb out of her cot a month ago, so will probably be in a proper bed by the time you read this. Lucy has a fantastically infectious laugh and can be lots of fun most of the time. Unfortunately, the tantrums of the "terrible twos" are just starting….
Work News
The business is still thriving and takes up more time than we would really like. Work is still mainly revolving around the "Gallery Guide", a portable CD player for use in Museums, and communication and paging systems for Fire Brigades. The CD player is now installed in various museums around the world, including the National Gallery and Edinburgh Castle, so do try it – and I don't get any commission! One interesting spin-off from this work is the possibility of developing a version for blind people to use as a more modern form of "talking book". The Fire Brigade work is also ever expanding, with systems being installed all over the UK, and probably in Southern Ireland and Australia next year.
The House
Another year of fairly intense spending on the house. It started with a Conservatory, which we are now very pleased with; then most of the left hand half of the garden had a new wall and path, then the garage seemed a bit tatty by comparison, so that ended up being replacing!
Next years project is to be the drive and front garden. This is the current plan of the house and garden:
Holiday News
Last New Year, we joined our regular group of friends for a week in a converted chapel in Belper, Derbyshire, which had three pubs within 100 yards! We spent most of the time walking and playing tourists, with a surprising number of local attractions open at that time of year. We also managed to find some snow on the high ground which was nice.
Spring Bank Holiday saw us camping in "our" field in Austwick, Yorkshire. It was the first time we have used our new (to us) trailer tent, so quite an exciting week. It was nice to actually use the tent, having spent many hours rebuilding it over the last year.
For our (10th!) wedding anniversary at the end of June, we managed to escape to Paris for a weekend without the children. We went on the Eurostar train from Waterloo, which was fantastic. It still seems unreal to get to France without air or sea travel! We enjoyed Paris but it was very hot and muggy (as was England at that time if I recall).
At the end of July, we spent a week camping in Cornwall with Tina's Ranger/Venture Unit. Took the trailer tent (of course) and had a lovely time, with nice warm weather (at least most of the time). We spent another week getting home, visiting various friends and relations on the way.
The last camping trip was over August Bank Holiday, this time in Sussex with the local Guides. We seemed to spend most of the time keeping out of the sun!