Gemma & Lucy
Gemma has now been at Primary School for nearly a year, and has grown up a lot in that time. She has a new set of friends and activities and appears to enjoy most aspects of school, except for getting up early. She also enjoys physical activities much more than she used to; could it be that she is getting fit walking about a mile per day to and from school? Her reading has come on in leaps and bounds; as often as not she reads her bedtime story to us rather than vice versa. She has also started Rainbows, which she seems to enjoy. She still loves to spend time drawing and painting, apparently loves playing Scrabble (?) and still enjoys anything to do with railways, especially Thomas the Tank!
Lucy has grown up into a very lively two year old, constantly talking and investigating everything. There is starting to be a large element of trying to copy her older sister, with mixed results! We are currently going through the potty training stage with her; it's a trying time but the thought of "no more nappies" is a powerful incentive (at least for us). She now goes to "Mother and Toddler" group, and is looking forward to starting at Playgroup some time next year.
The House
Our major activity this year was to have the front garden landscaped; it's amazing how different it looks now and we have space for up to six cars with careful parking. We also had the side and back patio repaved and most of the outside walls repainted, so most of the house is now starting to look respectable. Mind you, we have been here for nearly nine years…
Inside the house, the major exercise was to get the office redecorated. Sounds simple, but first almost everything had to be moved out; decorated (the easy bit!); moved back in, wired back up again and dusted etc. Took almost a month but I've now ended up with a much nicer working environment. The back garden is just about starting to take shape; many years of toil and changes are finally producing an easy to maintain garden; occasionally we even have time to enjoy it!
Work News
This past year has again been a very busy one work wise, with the bulk of my work again in Fire Brigade related systems. It's interesting work, and most of the people I work with are really nice, both my clients and Fire Brigade people. I have also started some work on a cot monitoring system for babies.
The "Gallery Guide", the portable CD audio player is still evolving and being used around the world, and we are currently doing a major design update for this.
This year was also the year for a major upgrade to the office computers, peripherals and operating systems. This has taken a lot of personal time, but I'm sure it will be worth it long term…
I'm also getting seriously into the Internet, which is starting to be an extremely useful business tool as well as the "fun" side. Communicating using email takes some time to get used to, but I find it's well worth the effort.
News from Tina
I have had a very busy year as usual; aside from the demands of two very demanding children, and a fractionally less demanding husband, I have managed to squeeze in "running" my Ranger Unit (in reality supporting and encouraging the young people to run it themselves), and various housewifely social activities! Reading continues to be an important part of my life; I am now on year eleven of my fifty year plan! During the summer, I did the administration for our local church "Holiday Club" which involved coordinating the activities of 75 children and more than 30 helpers for a week! It was brilliant fun and an incredibly warm atmosphere. I also help Gemma's class teacher once a week, unfortunately on PE day… In April, I attended a "Parent Link" course, exploring new strategies for dealing with the trials of parenthood. The support group that grew out of that meets once a fortnight. People ask how I find the time – my reply is "look at the state of the house!" Most of the time, I don't miss work, but I miss the technical side and would love to use the computer more often.
Our Holidays
Last New Year, we joined our regular group of friends for a week in what could only be described as an extensive Manor House near Lynmouth in Devon. A wonderful old house with a 20′ dining table, a log fire and views over the estate! Unfortunately, the weather was very cold and icy but we forced ourselves out for fresh air most days.
Spring Bank Holiday again saw us camping in "our" field at Austwick, in the Yorkshire Dales. This was the first time Lucy wasn't in the cot; she only fell out of bed once – unfortunately straight onto the grass!
Our "Group" in the Dales: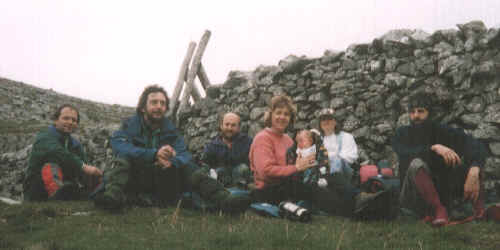 For our wedding anniversary at the end of June, we visited my brother who is currently living in Brussels. We used the Eurostar again and had a nice long weekend without the children.
At the end of July, we spent a week camping with Tina's Ranger/Venture Unit up in Scotland. It was a long drive (especially towing the trailer tent), but we managed to break the journey by staying with friends.
In August, we spent a very hot long weekend at our friends' caravan near New Romney. The children loved the beach and the "little" trains.
Later that month, we hired a thatched cottage in South Devon. Not quite such good weather, but we managed to visit the beach and most of the local tourist attractions.
During the October half term, Tina took the children on the train to Hastings for the fun park, and fish & chips.
During the year, we have also been on a "booze run" to France, using the Shuttle. This has kept the beer and wine stocks nicely substantial, and saved quite a few pennies, even with the Shuttle fare.