Lucy
Lucy is now three and is developing into an independent child, much more so than Gemma ever used to be at her age. It must be something to do with being a second child…
She is also more physically adept; she can wink (more or less) and she can pedal the little tricycle – something Gemma never did achieve. Unfortunately, she is also more adventurous, which gives Tina a few grey hairs.  She now goes to playgroup three mornings a week, and is starting to get the idea of the "rhythm" of the week. When at home, she is increasingly happy to amuse herself, which is very convenient for Tina as it allows her to get at least some of the housework done. The next major step will be the throwing away of the last nappy!  She is a very sunny and popular child.
Gemma
I collected Gemma from school the other day, and seeing the four-year-olds who have just started made me realise how grown up she is getting. She is still quite happy to sit quietly and read, draw, paint or just play, but increasingly enjoys the physical activities as well. She had her first pair of Walking Boots this year which has certainly put a spring in her step.  Another large difference is being able to read fluently. She automatically reads any sign she sees (for better or worse). Her English is excellent. Her maths is good, but could be better. Her real passion is art.  Unfortunately, she seems to have inherited her father's perfectionism and her mother's occasionally gloomy disposition, but she seems to manage reasonably well nonetheless.
The House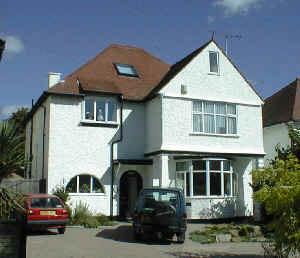 After all the frantic changes of the last few years, work on the house and garden took a bit of a rest this year. The front garden has settled down nicely; it's amazing how in a year it can go from tiny plants in between the rocks to regularly having to hack things back to stop them covering everything. The joys of nature!
We did have the Dining Room redecorated in April (which sounds simple, but again, there were 30 years of bodges to make good first), and the carpet has only just been fitted!
We also had an unusual table built in the loft to cover the triangular "wedge" which was part of the stairwell up to the loft. It has proved very useful, and a good use of otherwise wasted space.
Next year's project is to redecorate the Living Room. Wish us luck.
News from Tina
So little happens to me which isn't part of the rest of the news, that it's hard to know what to write. Besides my Guiding activities, I have helped with a children's holiday club at church, and I continue to help in Gemma's class once a week.
After a year's break, I have returned to my embroidery class. As a complete change, I am doing an experimental piece. People keep asking me what it's meant to be…
I have been working on a new database in an attempt to learn some new computer software, and keep my little grey cells active.
The most significant event for me personally this year is that I became a member of St. John's United Reformed Church in July.
Gemma's News
I am enjoying school. My teacher is Mrs. McAllister. I am also enjoying rainbows as well. I am enjoying church parade.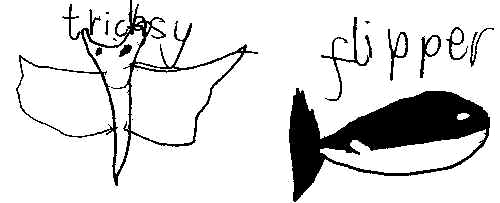 Our Holidays
Again, it has been a year of lots of short holidays rather than one or two major ones. Last New Year, we joined our regular group of friends for a week in an enormous Farmhouse near Brecon. The weather was very cold all week, with light flutterings of snow most days, but no real snowfall. Still, having a week in Wales without it raining is always a bonus. The cold seems less important when you can come back home in the evening to a roaring log fire!
Spring Bank Holiday again saw us camping in "our" field at Austwick, in the Yorkshire Dales. We were very lucky to have another week without rain, and many days were pleasantly warm.
Our next break was at the end of July, when we spent a week camping with Tina's Rangers/Ventures near the Sherwood Forest, Nottingham. I had expected grim industrialisation, but was surprised how green the area was, with lots of suitable places for the children. No mountains though. We had good weather (almost too hot), and a small lake in the woods nearby where the children could go swimming.
During their Summer Holidays, the children spent a week at Camp Beaumont, a local "activity" day camp. The house was nice and quiet that week!
At the end of August, we spent nearly a week at our friends' caravan near New Romney. The children loved the beach and the "little" trains, and again, we had fantastic weather.
During the October half term, we went to a cottage in a small village near the Yorkshire moors. For a last minute booking, it was excellent; very welcoming. Neither of us had been to that area before, but found lots to do. What with trains, hills and coast, what more could a Wheeler want?
Work News
For the last few years, I've been saying how busy work has been. Well, 1997 seemed to break all records. I seemed to spend the whole year trying to reduce the backlog, and even now, I have some unfinished jobs that are over a year old! It makes it very difficult to justify taking any time off at all.
The bulk of the work is still in Fire Brigade related systems, but the "Gallery Guide", the portable CD audio player, is still evolving and being used around the world, and we have just completed a major design update for this. Of course, just as the redesign has been finished, newer technology has become available, and the whole process may need to start again early next year.
I've also recently bought a CD writer. This has been extremely useful, not only for making backups of all my data (to store "offsite") but also for making my own audio CD's. Another new purchase is a multimedia notebook; although a lot of money, it is almost as usable as the desktop computers!