Lucy
As the years progress, Lucy is becoming very much her own person, rather than Gemma's younger sister. She can (and does) hold her own in both mental and physical sparring, which helps reduce the effect of the age difference in the children. It is lovely to watch them play together and enjoy each others company. Long may that last!
Lucy is now at playgroup five mornings a week, and will be starting at school in January. Her reading and writing is not as advanced as Gemma was at the same age, but she makes up for it with other skills, such as drawing, numeracy and talking.
Gemma
Gemma is now well on the road to becoming an adult. With the move to Junior school in September, she really seems to have grown up a lot. Not that this stops the occasional tantrum! She has also moved from Rainbows to Brownies, which is more stimulating for her, but it does mean a rather later bedtime.
She maintains a deep interest in the natural world, especially the underwater one, and can name far more species of fish and birds than we can. Less impressive is her ability to keep her bedroom in any state of tidiness, but I guess she takes after her father in that respect.
The House
We finally managed to get our Living Room redecorated at the beginning of 1998, and as I write, it is almost finished. Why is it that a simple coordination of two or three suppliers seems impossible, phone calls are not returned and four attempts were made to construct a simple wooden surround for the tiled base of our fireplace. Still, we like the end result and hopefully, will never have to get a fireplace fitted again.
We also managed to get the kitchen and upstairs toilet redecorated, both starting off as minor tasks by comparison, but of course easily going over budget by the time we were finished.
This year has also been the year when everything seems to have broken down and needed either mending or replacing. My spare time seemed to be filled with either repair jobs, or even worse, shopping for replacements.
The back garden also had a transformation by our landscapers this year, going from a rather overgrown, tatty area into a patio with a pergola and waterfall. All we needed was some summer to enjoy the garden with!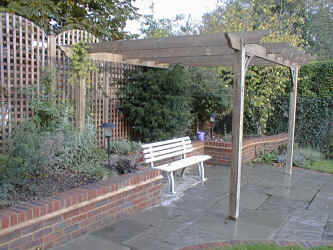 News from Tina
Summer Camp this year was rather special, being in Austria, and I went without the family. It enabled me to take my place as a leader more effectively, and I did several things which were new. I drove on the continent for the first time – and in a minibus, no less! We also visited a salt mine, went in a cable car, swam and canoed in the lake bordering the camp site. Someone said "It was a nice break from the children", but I'm still not sure whether swapping two small children for 13 teenagers constitutes a break…
I helped lead the Holiday Club at our church again this summer – a week of mornings for primary school children, looking at journeys.
In September, I began working at the local College of Further Education. Very part time this term – less than two mornings a week, but this will increase in January when I begin studying for a Certificate of Education. Unfortunately, most of my hours will be unpaid, but this is meant to be a long term project. The ultimate goal is for me to teach "A" level Computer Science.
R.I.P. Ginger and Jenny – Sadly, both our cats had to be put down this summer. They were sixteen years old, and we miss them.
Our Holidays
We joined our regular group of friends last New Year for a week in a house just north of Carmarthen. It was a bit on the damp side, but not too cold. It was strange to spend time on holiday in an area that I seem to have spent so much time working in recently.
At Easter, I had to spend another few days working in Carmarthen, so we hired a cottage and spent yet another week in the area. I found it strange to be working during the day, and on holiday in the evening, but it made a nice break, and certainly more interesting for me than yet more time spent in an anonymous hotel!
As usual, Spring Bank Holiday again saw us camping in "our" field at Austwick, in the Yorkshire Dales. We were not quite as lucky as in the last few years with the weather, but still had a great time. As well as walking and generally enjoying the countryside, we finally managed to get both the children underground, once in a show cave and for a very short period, in a "proper" cave.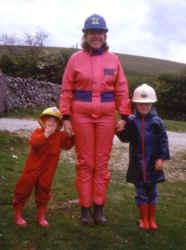 During June, we spent a weekend in Brecon for a family reunion, and in July, spent an interesting weekend on a friends narrow boat near Northampton.
At the start of the summer holidays, while Tina went to Austria, I spent a very enjoyable week with the children visiting various friends around the country.
During August, we spent another week at our friends' caravan near New Romney, during which we took the children for a short flight in an aircraft, which they enjoyed. Gemma has been getting jealous of me flying on business, and while I try to tell her that the novelty wears off pretty quickly, she was still very keen on trying it.
September was spent catching up with various friends that we had not seen for far too long. During the October half term, we stayed in a converted mill in Dorset. Despite the rather wet weather and various floods that had to be negotiated to get there, we all had a good time.
Work News
It has been another busy year at work. I've just started another company for tax reasons, and it gets really confusing keeping track of which one is which, and doing two sets of accounts. I hope it is all worth it in the end.
For the first six months of this year, I was convinced I would have little work over the summer, and would be able to take several months off as a bonus for working so hard over the last few years.  Needless to say, it never happened, but there is a small glimmer of hope for next spring….
One interesting fact is that around three-quarters of UK Fire Brigades are now using one or more of my designs for part of their emergency communications and mobilisation equipment. If only I had negotiated royalties…
I was finally persuaded to buy a colour printer; I must be the last computer owner in our road to get one.  And if one more person asks me if their tin opener is going to be Year-2000 compliant….