Gemma
Each year, Gemma seems much older, but this past year she has really grown up a lot. Almost all of the time she is sensible and helpful, only occasionally let down by the temper we know so well. She is doing well at school, and is now a Brownie Guide.
Lucy
Lucy is now in her second year at school, and seems to be doing well. She is still as boisterous as ever, and enjoys life to the full without living too much in Gemma's shadow. Lucy started Rainbow Guides in September, and was recently invested.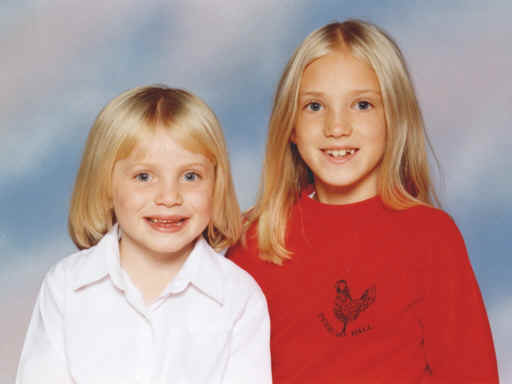 Gemma's Bit
MY CHALLENGE 1999
When we went camping I had a bit of a challenge ! On the second night I slept in a tent.
When I woke up my hair was wet. I realised this was because I had been sleeping with my hair against the side of the tent.
On the third night Lucy slept with me. This was very cosy.
Suddenly the inside of the tent went all dark!
In the morning we noticed that Daddy had put a ground sheet on the tent as it was so wet that night we would have soaked otherwise.
Pet News
Having started the year with no pets, we soon acquired two Guinea Pigs, Moonlight and Brownie. They live in the conservatory and are quite amusing in their own way!
In April, we acquired a yellow Labrador called Jesse. He came from a local Labrador rescue charity and is a lovely dog, though a bit lively at times. He is now 2½ years old, and is now definitely part of the family. It is difficult to remember a time without him. As with most Labradors, he loves attention, food, rivers and ponds!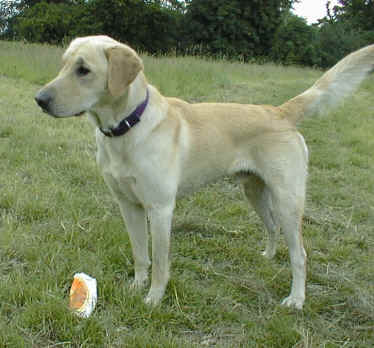 Work News
Work continues to occupy far more time that I would wish. A particular success this year was for an order for a new design to provide a paging and mobilising system for the RNLI. Over the next few months, one of these systems will be installed in each Lifeboat Station in the UK (223 at the last count). I also updated my main computers as at 3 years old, they were getting a bit out of date! One benefit of this for the rest of the family is that they now have their "own" computer up in the loft. The family is now fully networked, we now have our own email system, our own web site and a digital connection to the Internet. One of my projects that has advanced this year is to create a photographic record of the Orpington area. I now have nearly 800 photos of the area, and you can see some of the better ones on our web site at Orpington Photos.
Tina's Tales
For me, this has been another year of changes (or should that be challenges?). I started my Certificate of Education as planned in January. By the time you read this, my first year portfolio will be in for marking. It has been very strange studying and submitting work for marking after a gap of twenty years! I have thoroughly enjoyed my first year, and I'm looking forward to my second (assuming I pass, of course). My classmates are a tremendous group of people, with an enormously wide range of backgrounds and subject areas. I have also enjoyed the teaching side of things. In March, I took over part of an 'A' level computing class, and this year, I am teaching the same again, sharing the class with a colleague. I enjoy working at Orpington College; I find everyone very friendly and supportive. Other activities have continued, with Holiday Club at church in the summer again being one of the most significant. With Lucy at school, I have taken up Scottish dancing in a small way, and I now help in two classrooms each week (a refreshing change from 'A' levels!). Just for this half term, I am taking Jesse to dog training classes. Well, owner training classes, actually…
And to cap it all, I am now facing another big challenge. Starting in January next year, I am going to give up Rangers and take over the Guide Unit. I have managed to give up a few activities, but there are so many things that are interesting and/or worthwhile, that I find it ever so hard.
The House
Not a lot has been done on the house this year. The usual minor repairs and that is about it! The various changes to the garden are now beginning to settle down though, which is nice.
Our Holidays
We again joined our regular group of friends last New Year for a week in a lovely house in the Lake District. The weather was quite reasonable for the time of year and the pub at the end of the track did us proud on a number of occasions.
The girls finally went abroad when we went on a day trip to France in February. The Landrover came back a lot heavier than going, full of beer and wine.
Spring Bank Holiday again saw us camping in "our" field at Austwick, in the Yorkshire Dales. The week seemed to pass very quickly, though I really can't recall what we actually did!
The summer holidays were very busy. At the end of July, we spent a week camping with Tina's Ranger Guides and Venture Scouts outside Oxford.
One of the highlights for the girls was spending the night in their own tent.
After a week to recover, we spent a week in a cottage near Wellington, Somerset. This was a new adventure for us as we took the dog as well. He eventually got used to sharing the back seat with the girls, and seemed to enjoy himself, though he had to spend rather a lot of time in the car while we were visiting "non-dog-friendly" places.
At the end of August, we spent another week at our friends' caravan near New Romney and again had nice weather so we spent lots of time on the beach!
During the October half term, we got the Eurostar train to Brussels to visit my brother and introduce the girls to another country. It was great seeing Steve in "his" territory, and the girls enjoyed seeing a different country.