Gemma
This year, Gemma has gone from being a child to a "Young Lady". Her manner and actions seem so much more grown up now. She copes well with school, despite having a much "harder" teacher. Gemma still enjoys Brownies, has an encyclopaedic knowledge of all things animal and is producing some really nice art work.
Lucy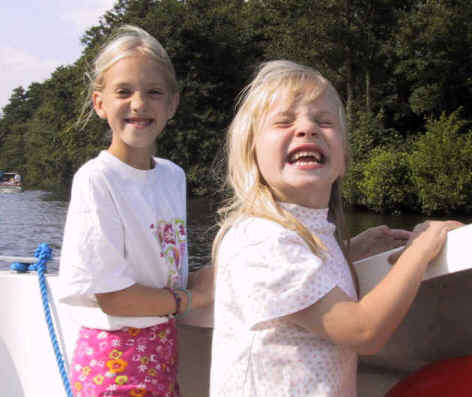 Lucy is now in Year 2 at school, and continues to make good progress. All of a sudden, she was able to read fluently, which has made a big difference. She is still as cheerful and boisterous as ever, and somehow manages to keep up with Gemma despite the age difference.
Gemma's News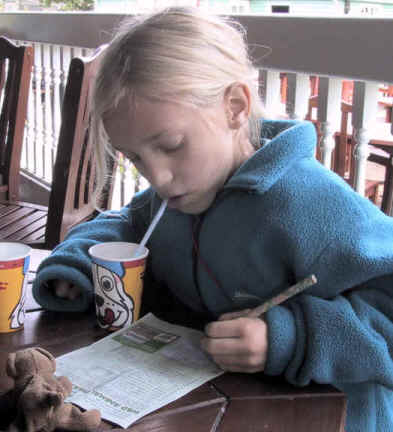 I have been enjoying putting up and decorating the Christmas Tree (I always do). I have also been enjoying training the dog. He is my best friend apart from Kathleen (Year 3).
From Lucy
I have been enjoying myself. I love playing all over the place .My favourite thing was playing with the noo noo (a toy) but I don't have 1 (I have 2.)
Jesse
In the last year, Jesse has become a lot more sensible. He is still very full of enthusiasm, especially on the first 100 yards of the School run every morning, but apart from that, he is still great fun! He had a three week "holiday" with my brother in the summer, and the house seemed extremely quiet without him.
Work News
Yet again, it has been another busy year work wise. No spectacular new developments, just lots of updates to existing projects. Still, it's nice that the work is there. The web site also seems to grow month by month; also my collection of Orpington Photos now consists of nearly 1500 pictures, and attracts many visitors from around the world.
Tina's Tales
This has been a year of ups and downs for me. In May, I had a brief stay in hospital, then in June a period of intense stress as Guiding, studying and work activities all came to a head.
The low point must have been the diagnosis of breast cancer at the end of August. Another, longer spell in hospital followed, and I am now on a course of chemotherapy, with a view to preventing any recurrence of the cancer. I should be back to normal in time for the next camping season!
The studying has mostly gone well this year; I have been thrilled to get some very good marks for my essays.
Guiding has been a new challenge, with the change from Rangers to Guides. They are a tremendous bunch of girls, and have made me very welcome. The high point of the Guiding year for us was the Footsteps 2000 event at Downe, at the end of June. 600 Guides and their leaders camped for the weekend. We all walked to Cudham on the Saturday afternoon, and joined the 3,000 Brownies, Rainbows and Leaders already there. What an event!
We also had a great time at Holiday Club at church in August. The support of the church and all my family and friends have helped me through the bad times this year, and I am very aware of my many, many blessings.
The House
There has only been one real change to the house this year; we moved Lucy into Gemma's old bedroom, then Lucy's old bedroom was completely redecorated and refurnished prior to Gemma moving in. Sounds simple, but with the usual delays due to the incompetence of suppliers, it ended up with Gemma spending several months sleeping in the loft. Not that she minded, of course!
The garden continues to flourish and some of the changes we have made over the last few years are starting to reap real benefits. Just occasionally, we even have the chance to sit outside & enjoy it…
Our Holidays
For the first time in a decade, we didn't go away over New Year. The few places that were not already booked wanted to charge two or three times the normal rate, so we had a gentle week at home instead.
Spring Bank Holiday again saw us camping in "our" field at Austwick, in the Yorkshire Dales. A very pleasant week for all.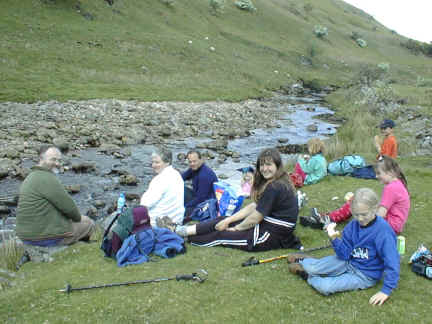 For various reasons (mainly work commitments), we did much less for the Summer Holidays than previous years. Apart from a few 'days out', we did manage to get away for a week to a cottage in the Norfolk Broads. We had superb weather all week, and really enjoyed ourselves. It's a lovely area, and very children friendly.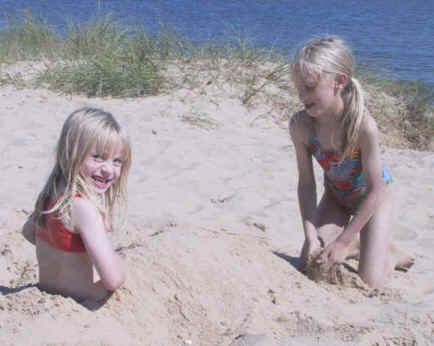 A rare picture of the entire family:
During the October half-term, we spent nearly a week in a pub near Dover. Such hardship, with only 15 different Real Ales to choose from in the evenings! It made a pleasant change to go on holiday only an hours drive from home.