Gemma
This last year has gone by very quickly. Already I have settled into my new school (Newstead Woods) and made many new friends.
I think the highlight of this year, apart from our holiday camping at Austwick was my school journey with Perry Hall. We went to Scarborough for a week, and did many fun activities, including navigating, bowling and playing on the beach.
On the whole this year has been fine, having got into my first choice school and got all those tests over and done with!
From Lucy
Hello!
I've now started using an ink pen. At school my handwriting has got a lot neater. But I'm still very scruffy at home, though. I'm the oldest person at Perry Hall School (out of my family).
Good Bye.
Tina's Tales
This year has been blissfully uneventful for me.
Of course, it has been busy, but most of this is noted in the family's sections.
In August, I finally received my Certificate of Education, so I am now fully qualified. In consequence, I have more than doubled my teaching hours, and now work a total of about one and a half days a week.
Church and Guide activities continue to take up a large part of my time.
A sadness this year was the death of my uncle last month. He was my mother's younger brother, and had been poorly for a while.
Pet Tails
Jesse, our Labrador, has become a real part of the family. We also look after another dog, Major, two days a week, which gives him even more company. 
Ebony, our cat, finally discovered the outdoors this spring, which is a relief as we had got fed up clearing the litter tray.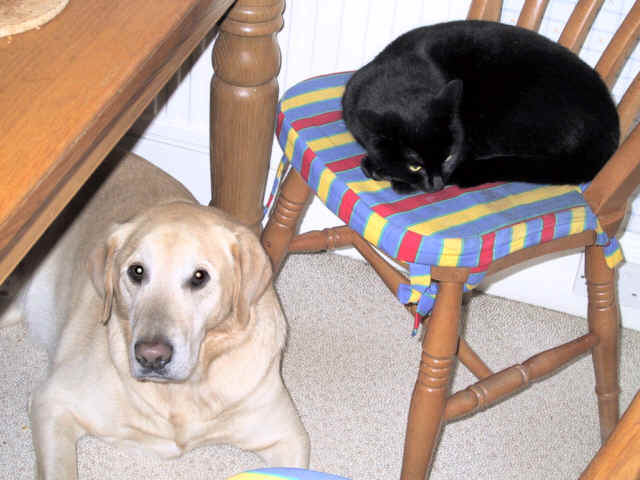 Phil's Bit
Work has kept me busy; however it's been a very frustrating year in many ways – I seemed to be forever waiting for someone else to do their bit! The business is now a bit quieter, which is good news as I had been working at full throttle for too many years.
The main "technical" addition to the house this year was a broadband internet connection. After yet more wiring, all our computers are now permanently connected to the rest of the world, and it just works. Well recommended!
One of the PC's has been replaced with a new one machine, and the family now have my old one.
The House
Again, not much to report this year. Having spent so many years in what seemed like perpetual changes, it's really nice to not have builders around. The garden is filling out nicely, though still needs considerable maintenance. I built some new compost heaps last year, which have proved very useful this year.
Our Holidays
We again spent last New Year with our usual group, this time in a large house near Brecon. Even though we had been in the area the previous summer, it all seemed very different in the snow.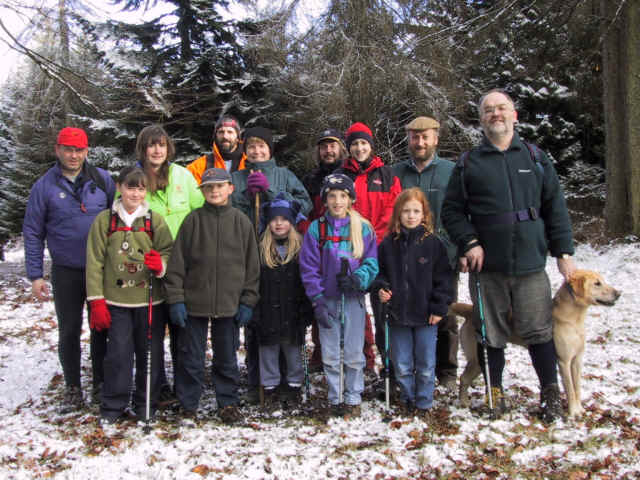 We went to a lovely quiet cottage in Suffolk for the Easter Break. 5 footpaths led off from the cottage through some superb woods, so walking the dog was not a hardship. We also had excellent weather for the time of year.
At Spring Bank, it was nice to return once again to our camping field in the Yorkshire Dales. We had a very active (though exhausting) week and it was nice to meet our northern friends again.
We managed two weeks away in the summer; the first was to a cottage near Hadrians Wall in Northumberland. Unfortunately, the children suffered "Roman Overload" after a few days, but there were plenty of other things to do.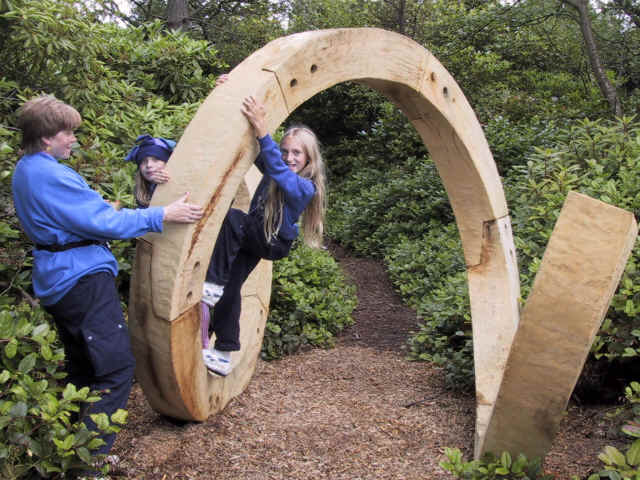 The second week in the summer was spent in a lovely cottage near the Lincolnshire Coast. We all enjoyed the walks and the beaches; particularly Jesse! Good weather also helped.
The final holiday of the year was at October half term; part of it visiting friends in Hereford, then a few days in the Thames Valley. The highlight of this week was visiting Westonbirt Arboretum – the autumn colours of the trees were fantastic.