Tina
I have now completed my Adult Leaders Training Qualification with the Guides, so I will be qualified to teach Guiders about Guiding!
There have been two personal highlights for me this year; one was attending a pop concert with a group of Guides great fun, and did wonders for my street cred. I did genuinely enjoy it, but I still don't understand why they have to be quite so loud!
The other was attending a conference at which Bishop Jack Spong gave two one hour long talks. I found him an inspiring speaker, who had me glued to my seat. This man has affirmed some of my beliefs, while challenging me to examine others.
I continue with Guides, Church (including Toddler Group), Court sittings and piano lessons (I'm enjoying attempting some Chopin).
All the other good and exciting things which I have enjoyed this year are mentioned elsewhere, as my favourite thing is time with the family.
Lucy
After the excitement of last year, 2009 has been pleasantly uneventful for me: I've been continuing my GCSEs at school and still doodling away at home. Now having moved into Year 11, I'm doing a one year course in Graphics and Art – that means I have 16 lessons a fortnight! A big improvement from last year's timetable. I also handed in my Sixth Form application the other week, and am having my interview nearer the end of term – I feel so old!
In October, I visited the MCM Expo (an anime, art and games convention) in London with a few of my friends, and met a couple of people that I've known on the internet for a long time at the event – risky, but definitely worthwhile as I finally got to meet them in person and made loads of new friends, too.
Gemma
I finally finished my A-levels (a big relief), and left secondary school (not so good). I'm now doing an art foundation in Bournemouth, which keeps me very busy. Living away from home for the first time has actually been easier than I anticipated, but there are a lot of things I miss from home – Guiding, green spaces, a warm bedroom, and of course the family.
After several weeks of a huge variety of projects trying out different areas of art and design (ranging from life drawing to film-making to designing egg packaging), I've chosen to specialise in illustration.
I still manage to find time to work on my own drawings and projects, including my webcomic, which is going through some much needed reworking!
Phil
It has been yet another year of hard work, which is good for keeping the family fed & watered – especially given the current economic climate. Still, the work remains interesting, and with every new project I seem to get involved with yet another aspect of technology – this year was "32 bit embedded systems" – google it if it doesn't make any sense!
The only work done on the house was to design and install some LED lighting for the garden. I'm really pleased with the end result and it takes very little energy to run.
Pet News
One very sad event this year was the loss of Jesse, our companion for the last decade.
However, thanks to the local Labrador Rescue organisation, we were only dogless for a very short time…
Barney is a very different character, with both plus and minus points! He's also very lively, so it's back to long walks in the country, which is great to provide us all with some exercise again.
One disappointment is that Barney and Ebony, our cat, have yet to get on very well with each other.
Holiday News
We spent New Year in a cottage in the Lake District. No snow, but lots of frost and ice, which made for dry but cold walking.
At Easter we returned to a thatched cottage in Alfriston that we stayed at in 2005. It's a lovely area, with lots of walking available "from the door".
Yet again, we spent the Spring Bank week camping in our usual field in the Yorkshire Dales. Lots of nice walks, and time spent chilling-out in the peaceful scenery.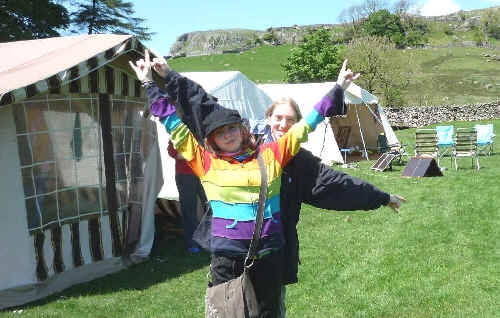 Tina's Guides had a camp near East Grinstead. Tina ran the camp; Phil & Lucy did the cooking and Gemma did her own thing. It was a lot of work organising everything, but it went well and the girls enjoyed themselves.
For our family summer holiday, we spent two weeks on a canal boat. We did part of the Leicester Ring, with an excursion south. The weather was reasonably kind for us, and we had a great, relaxing time. We were fortunate to have an internet connection on the boat, which really helped to keep in touch and for checking on the weather and local events.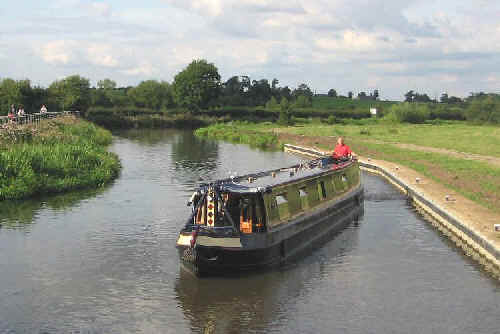 We went to visit Gemma in Bournmouth in September; it was nice to see the house and the area where she was living (very 'Student') and to play "tourists" in the surrounding area, even including a quick paddle in the sea and a trip on the Sandbanks ferry.