Lucy
This year, although not the most exciting, has certainly been very important for me. I sat most of my GCSE exams in the summer, achieving reasonable grades, and am now studying chemistry, maths, geography and art at A level. One of the biggest highlights of the year was attending the MCM Expo, a comic, movie and game convention, in October – in costume. Although I've been in previous years, this was the first time I was seriously involved in the event. It also gave me the chance to meet up with some of the friends that I had met through DeviantART, an art-based internet community, a few for the first time. Notably, the experience involved dying my hair black – a shock to friends and family!
As always I'm still drawing, although in recent months my school work hasn't left me much time for recreational art.
Gemma
This year has been a very busy one. I finished my art foundation, which was a lot of hard work, but I'm pleased with the results. I'm still involved with Guiding. Along with going to summer camp with the Guides, I help with Brownies, and I have also taken over leading a Ranger unit. I'm working on the leadership qualification at the moment – and because I'm working with two different groups, I have to do 5 out of 4 modules!
When I have some free time, I do various arts and crafts. I'm still updating my webcomic, and I've recently started dressmaking.
Tina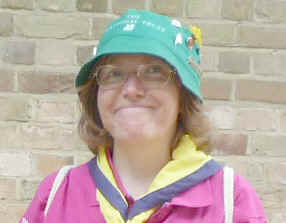 This year has been the centenary of Guiding, which has made it very busy for all of us involved. Party in the Park, May camp (very wet), summer camp with 1200 others, District closing camp fire, to name but a few. I have finally achieved my Training qualification, which means I can train other Guiders to Guide Guides – if you get my drift!
I'm still a church Elder and a Magistrate. I think everything else I've done this year has been with the family, and so is mentioned elsewhere.
Phil

Life has again been busy, both on a professional and personal level. Whilst there is much talk amongst my colleagues of retirement, it seems a long way away to me. I'm still able to keep up with the technical challenges that are presented to me. The hardest part is being tolerant of clients who can't be bothered to engage their brain before asking daft questions…
Yet again, the house and garden has largely looked after itself, which is great as the weekend can be spent relaxing and walking Barney.
I still help to look after the equipment for our Scouts, which gets me out of the house.
Pet News
Barney took a while to settle down to living with us, but is now a happy settled dog. Unfortunately, with that confidence, he has now learnt the standard Labrador tricks to wheedle food out of people.
Barney and Ebony are still not friends with each other, but they will at least stay in the same room without hissing and barking.
Holiday News
We spent a week over New Year in a cottage near Bude in Cornwall. A lovely week tempered only by Barney falling down a 100' sea cliff. Luckily he escaped with only scrapes and bruises.
At Easter we returned to our regular farm in Suffolk. It's a lovely area and each time we find something new to do.
The Spring Bank half term was, yet again, spent camping in our usual field in the Yorkshire Dales. When the sun shines there, it really is so lovely!
As this year was our silver wedding anniversary, we splashed out on a first class escorted tour to Switzerland by train. We were based in Lucerne, and travelled by countless trains both large & small; also various boats, cable cars and gondolas. It's a very well organised country, and we plan to visit again.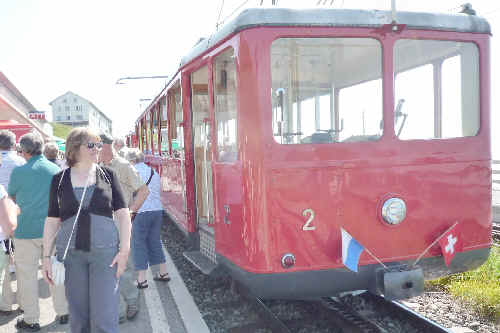 As Tina has mentioned, this year was the Guiding Centenary, and we were all involved in a local camp at Cudham. It was hard work, but one of the highlights for us was a trip to Brownsea Island in Poole Harbour – the birthplace of Scouting and Guiding.
The photo shows one of the stage events at the camp.
For our family summer holiday, we stayed in a recently converted barn on Flamborough Cliffs.
Though not particularly warm, there was excellent walking from the cottage, and Barney didn't try abseiling the cliffs this time.
The picture shows the Bempton Cliffs bird sanctuary.
For our final holiday this year, we left the girls looking after Barney at home and stayed in a converted barn at the top of Cheddar Gorge. It was a lovely spot, with many walks possible from the farm.
Lots of nice walking, good pubs, and a very warm day (for October) on nearby Brean Sands.