Lucy
Not much interesting happening at my end this year. I did well in my AS level exams and am now taking the same four subjects in my second year of Sixth Form (I had planned to drop art, but popular consensus convinced me to continue at A2). I'm planning to study chemistry at university next year, which has involved a lot of train trips and fun with UCAS applications – read this space for where I'll end up. Outside school, I'm still working at a local Cancer Research charity shop, which is a lot more fun than it sounds!
---
Gemma
This year has been a rather varied one. I'm now settled in at University, studying Geography. It's hard work at times, but I'm enjoying it. I've joined quite a few societies; I particularly enjoy conservation. It's nice being able to go on days out each Sunday, and feel like you're being useful at the same time. We even went on a residential trip to Wales in October, which was great fun.
I had a very busy and enjoyable year with Brownies and Rangers, including two camps last summer. I've finished my leadership qualification for Rangers, and I only have to do a few more things for Brownies – then I can send it off and become a proper leader! I sadly had to give up running the Ranger unit when I left for uni, but in the new year I'm going to try to find a unit I can help out at there.
In between work I still find time to do drawing and crafts. I also participated in NaNoWriMo (a challenge to write a novel in a month) this year – and somehow managed to complete it.
---
Tina
As usual, I have had a busy year. My court sittings have become more varied, as I am now expected to sit at Bexley and Greenwich as well as Bromley. This hasn't been too much of a problem so far. I have also undergone an induction so that I can sit at the Crown Court in Croydon, to hear appeal cases. In March I supported a school team as they took part in the Mock Trial competition. Local heats were held at Bromley, then the winners go on to Regional and potentially national finals.
I still run Guides, still do training, and get dragged into other things by various Guiding friends. I'm now an official member of the team responsible for the pastoral care of members and friends at church. (I'm not quite sure how I ended up doing this; I keep expecting them to discover the truth and realise I am not qualified! Still, I suppose God moves in mysterious ways…)
When I can, I try to fit in some dancing, singing, reading and knitting!
---
Phil
2011 was an interesting year. Work was its usual pandemonium, but for the first time in many years, I actually had a couple of quiet periods. They didn't last long, but gave me an opportunity to catch up with all those low priority things that have never got done.
I've managed to lose 2½ stone of weight over the last year or so, which has improved my health no end, and also allows me to walk quickly both up and down hills.
I've also started to build an 00 gauge Model Railway in the loft; it was always vaguely planned when we got the loft area refitted, but it's now becoming a reality.
---
Pet News
Barney has now fully settled down with us, and will sometimes even stay in the same room as Ebony…
He's good company though, and really helps to keep me fit.
Ebony is getting on a bit now, and has some problems with her eyes, but still seems to enjoy life in that curious feline fashion.
---
Holiday News
We didn't go away last New Year, so our first holiday in 2011 wasn't until Easter. We rented a cottage just outside Orford in Suffolk. A wild area, but we had some nice weather and even nicer pubs.
As usual, we camped on 'our' farm in the Yorkshire Dales during Spring Bank week. We had to take Barney with us, and I was very concerned that he would be a nuisance with the sheep, but it turned out he was more scared of them than vice versa. He did have a lot of trouble with the stiles though, at least until he figured out that he could jump right over the lower ones with ease.
We took the Guides camping at the start of the Summer Holidays; only 6 miles away to Downe, but a different world nevertheless. It was hard work, but we had good (and dry) weather, and a lot of fun.
For our first "family" holiday, we again borrowed my cousin's canal boat and cruised the canals around Cheshire. Again, we had Barney with us, and apart from falling in once, he managed very well.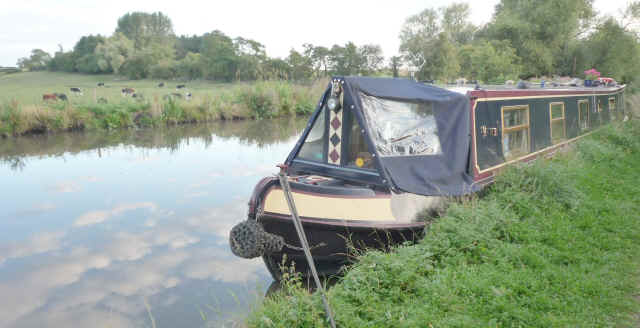 Our other summer holiday was a week in the North York Moors. It was a good combination of nice food, old trains, nice walking and beaches.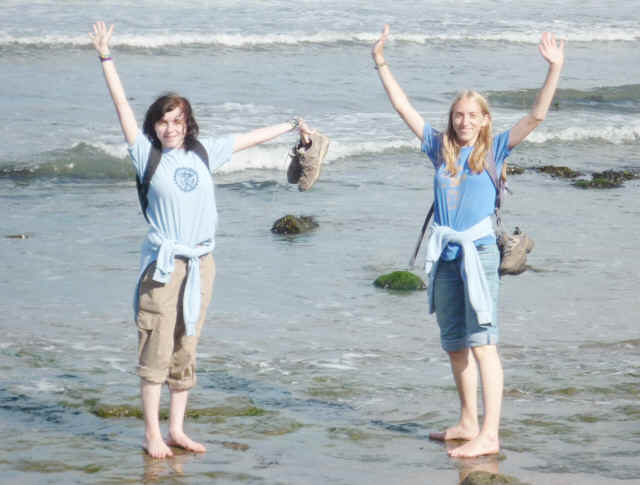 For our final holiday this year, Tina & Phil spent a few days in a hotel on a cliff top near Broadstairs in October. Nice bright days, but a 'fresh' wind made it feel less than warm at times!