Lucy
Lucy worked very hard through her final year in the sixth form and got excellent grades at A level. So off she went to York in early October, and has since joined a few societies, and explored the city on her new bicycle. She keeps us fairly well updated – possibly!
During the summer, she worked for two sessions a week in one of the local charity shops, and found time to go on a camping trip to the West Country.
At the end of October, she went to Birmingham for the weekend to see Gemma.
---
Gemma
Gemma is doing very well at the University of Birmingham. She has now settled into a very pleasant house in the leafy suburb of Harborne, not far from the university. She continues to be with the conservation group, and the student garden was a source of great satisfaction. Tina visited her on the way to take Lucy to York, and came home with carrots!
She has also started up a new Ranger unit in Harborne, with a couple of other leaders.
---
Tina
The most significant event for me this year has been Lucy going to University, and the effective end of my role as full time mother – although "full time" has been a misnomer for some years, of course. I miss both Gemma and Lucy terribly, but there are consolations; the biggest consolation is the pride I have in the two wonderful young women who are my daughters.
Otherwise, I continue with Guides, Church, Bench. As I write, I am looking forward to my first sitting at the Crown Court, where magistrates sit with a judge to consider appeals.
I still manage to do Scottish Dancing weekly. Playing the piano helps keep my fingers a bit more supple.
I've spent a bit more time visiting my father and his wife this year.
Despite all this busy-ness, I would always rather be curled up in a corner with a book, something which hasn't changed since I was first able to read.
---
Phil

It's been another busy year for me, though I did manage to avoid work for over a month over the summer, which was rather nice!
The Model Railway is also progressing well – see rail.wheeler.org.uk for more photos and information.
I've also joined the local model railway club and spend an evening a week building a layout there. I've been amazed how many skills I've needed for modelling, from programming to painting…

I've managed to keep my weight down, helped by lots of walks with Barney, but the visits to the doctor seem to be more frequent nowadays. Nothing serious, though!
---
Pet News
Barney finally seems to make friends with almost everyone he meets, apart from the postman…
Unfortunately, he was attached by a Staffie earlier in the year, but he's fully recovered now.
Ebony is also well, though less active nowadays.
---
Holiday News
Last December, we took the train to Lincoln, and enjoyed the (very busy) Christmas Market.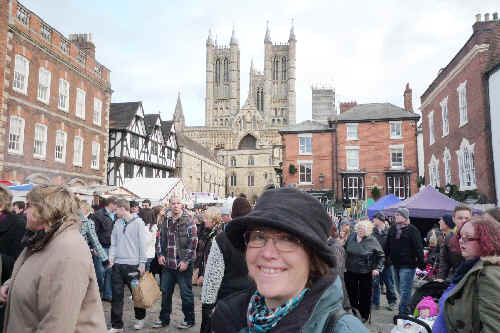 We all returned to what is becoming our 'Second Home' on a farm in Suffolk for a week over Easter – good weather, walks and pubs.

There was some good blossom this year!

As usual, we camped on 'our' farm in the Yorkshire Dales during Spring Bank week. Gemma and Phil went down the winch into Gaping Gill – a new experience for Gemma – something everyone should do once.
Phil, Tina and Barney had their first Summer Holiday in Norfolk staying in a cottage in a very quiet area near the River Yare. We spent a day using the local trains to visit Norwich, Great Yarmouth and Lowestoft.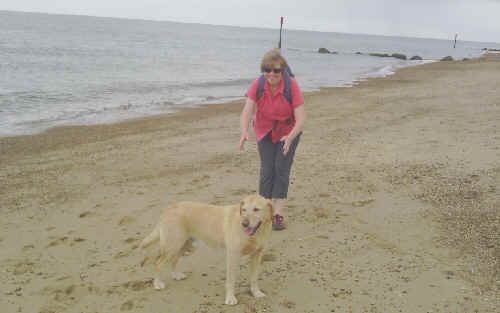 For our second Summer Holiday, the three of us borrowed my cousin's canal boat again and cruised the canals from Oxford to the East Midlands.

Progress was much slower without Gemma and Lucy to work the locks for us, but somehow that seems less important on the canals.
Our October holiday was near Rye, in Sussex. Not very far from home, but a totally different area with some great walks and dog-friendly pubs.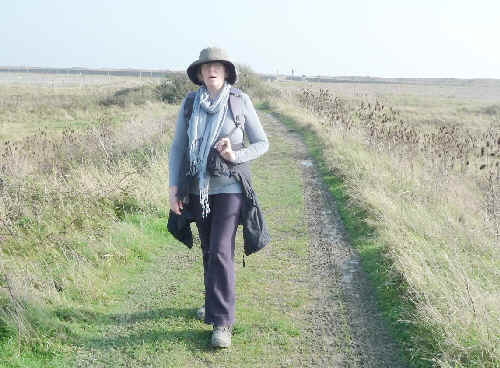 We spent an excellent day walking on the cliff tops in Hastings Country Park.
---