Tina
I'll just run through a few highlights, not including things I've done with the family. After years of talking about it, my friend Jackie and I finally spent a weekend in Birmingham, visiting old haunts, and Gemma. I spent a few days manning the sound desk for a Ministers' summer school. That was rather different, and very interesting. I've done a few Guide leader training sessions out of my local County, so that has stretched me a bit. I spent a weekend in November in York, with Phil's mum, wandering around the city centre and spending some time with Lucy. I continue to get great pleasure out of my piano, playing with headphones on so as not to inflict it on anyone else. Then there is the book group; a combination of reading and conversation, what could suit me better?
---
Phil
It's been another enjoyable but routine year; enough work to keep the bills paid, but not so much that I've not had time for holidays and keeping up to date with non-work activities. I'm still enjoying spending time on my Model Railway  – see rail.wheeler.org.uk for more photos and information.
---
Gemma & Lucy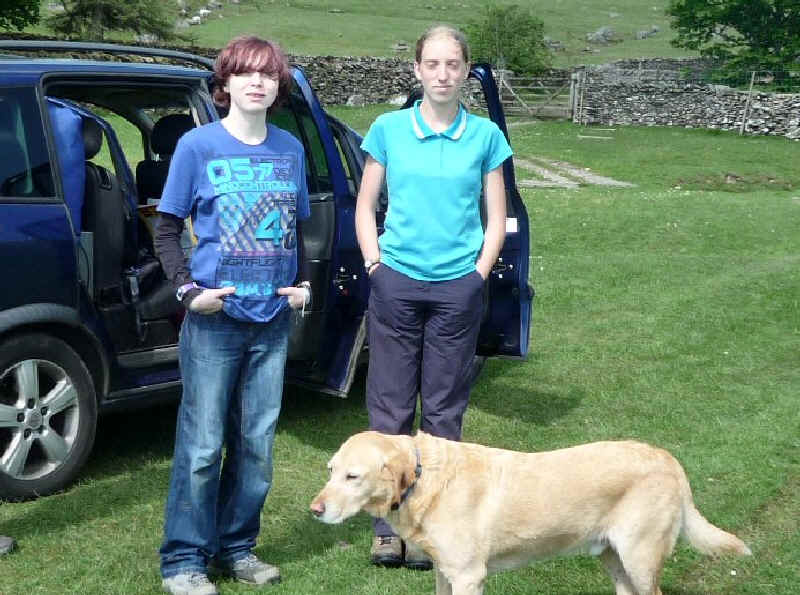 Now that both girls are away from home, it seemed appropriate for me to write a brief update on their activities.  Gemma is studying engineering at Birmingham.  She is still involved in Guiding, which pleases me, of course, but also does lots of other things, including the student garden.  She has been known to bring home produce, which is fun.  Lucy did well in her first year of Chemistry at York.  She has now moved off campus, and is also doing lots of different things, including German and judo!
---
Pet News
Barney & Ebony are both doing well; Barney has calmed down a lot with his increasing years; unfortunately he can't always keep up with me when we are walking now, which can be a bit frustrating.
---
Holiday News
Apart from a few weekends away, our first holiday this year was in the Isle of Wight at Easter. We stayed in a lovely thatched cottage on a coastal path within earshot of the sea.
The weather was a mixture, from sunshine to snow, but we had a good week.
As usual, we camped on 'our' farm in the Yorkshire Dales during Spring Bank week. The group was smaller this year; the last few days just being the four of us and Barney (who is now very good with sheep).
Each year, Austwick has a Street Fair.
We also managed lots of walks in the area, including some lovely woods with bluebells and orchids. Not forgetting the hills:
We took the train to Amsterdam in June, with my mother and Aunt. We had a great time on the canals and visiting the newly reopened Rijksmuseum.
Some excellent meals as well.
July saw us helping with an International Scout & Guide camp locally.
Later on in the summer, we spent some time on the Llangollen Canal. It was busy at times, but quite fun. Good pubs in the area. Barney didn't seem to enjoy it as much as previous trips:
This is what I call a convenient pub (good as well):
The famous Pontcysyllte Aqueduct – it's a long way down:
The source of the Llangollen Canal water:
Our final break this year was a week near Petworth. A very nice area, again with superb, dog friendly, pubs:
One highlight was the 'Weald& Downland Open Air Museum", a collection of original buildings relocated and restored in a 'typical' setting:
The other highlight was the Amberley Heritage Centre, an eclectic collection of engineering items in an old chalk pit. Tina and Barney were not quite as interested as Phil though…
---