Tina
Guiding, Court, dancing and church have all been taking up my time in between time with the family. The highlight of my personal year was attending the grand alumni reunion at Aston University, where they were celebrating 50 years since the royal charter.  The campus is unrecognisable from when I was there in the 70s, but it is good to see my old uni going from strength to strength.  I was particularly pleased with the photo of the library, which was new when I was there, and has now been refurbished.
---
Phil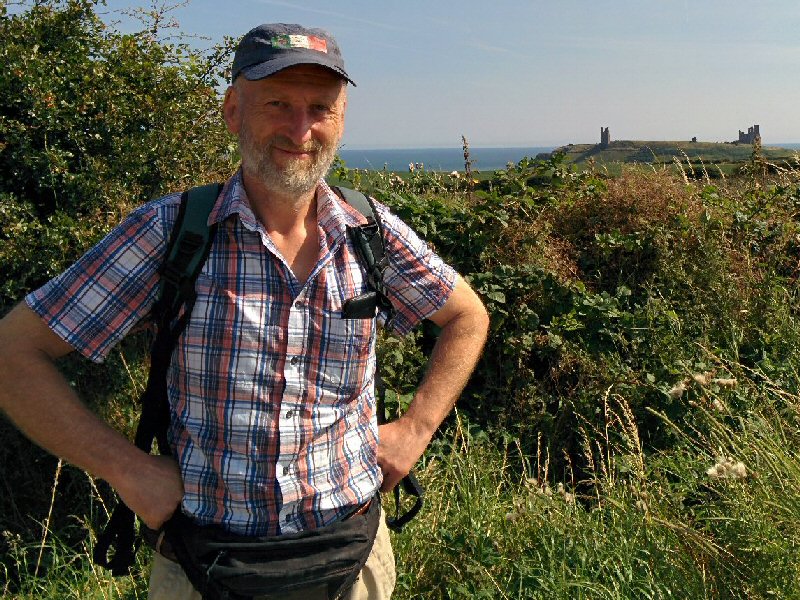 It's been an interesting year; I am moving towards semi-retirement, though with no plans to give up all work at this stage as much of it is still an enjoyable challenge.
Now that I'm ancient enough to have free off-peak travel within the Greater London area, my outdoor project this year has been to walk the London Loop. This is a 150 mile waymarked walk around the outer edges of London, broken up into sections that are accessible using public transport. So far, I've walked from Erith (South of the Thames in East London) clockwise around to Cockfosters (North London) and explored some really interesting areas of London (and travelled on lots of different trains!). The remaining walk to Purfleet will probably have to wait until the weather warms up again next year!
I still find the odd weekend to work on my Model Railway. See rail.wheeler.org.uk for more photos and information. I still also help managing the equipment for our Scout Group – see 2nd Orpington Quartermasters for more details and photos.
---
Gemma and Lucy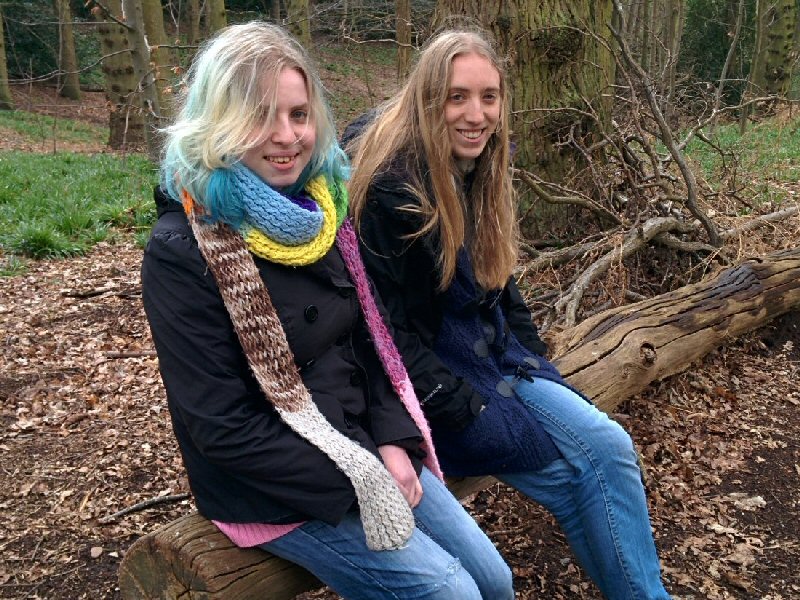 Gemma is in her final year of Engineering at Birmingham University and Lucy is in her final year of Chemistry at York.  They both seem to be happy in their work, and do various things in their spare time.  They come home when they can, but thank goodness for social media!
---
Pet News
Barney's health had been declining for a while, and once he started to have serious difficulty with walking (his favourite occupation), we reluctantly decided it would be best to put him to sleep. He's been a wonderful companion over the years, and we all miss his curious ways.
We'd already decided to have a break before getting another dog, so in the meantime, we volunteered to foster dogs for Labrador Rescue. This has been an interesting challenge; we've had five dogs so far:
Ralph
Ralph is a lively two year old that we fostered for a month in April. He was a bit wild to start with, but we soon calmed him down. It was a difficult decision not to keep him permanently, but he is now having a great time with his new owners.
Cookie & Tess
Cookie (on the left) is a 6 year old, very 'chilled' dog, and Tess a 3 year old bitch. They lived as a pair and really enjoy each others company. Unfortunately, no home could be found for them both together, but they are each happy in their new homes.
Dennis
Dennis is around 8 (not much is known about his past) and was very stressed when he arrived with us. He was a bit more relaxed when he left us for his new owners a week later, and is now getting on well.
Tyson
Tyson is a 6 year old (mostly) Labrador who has come from a home where the family were really struggling to look after him. He was very nervous when he arrived (are we that scary?) but he has now calmed down and is a really lovely dog who loves playing with sticks!
Ebony
Our cat is still enjoying life (not that she does much but sleep), but is now getting on in years and is starting to struggle with various health issues.
---
Holidays
We did well for holidays this year, starting with a week away for the whole family at "our" cottage in Polstead, Suffolk. Nice pubs, nice walks, fairly nice weather; what more could one want?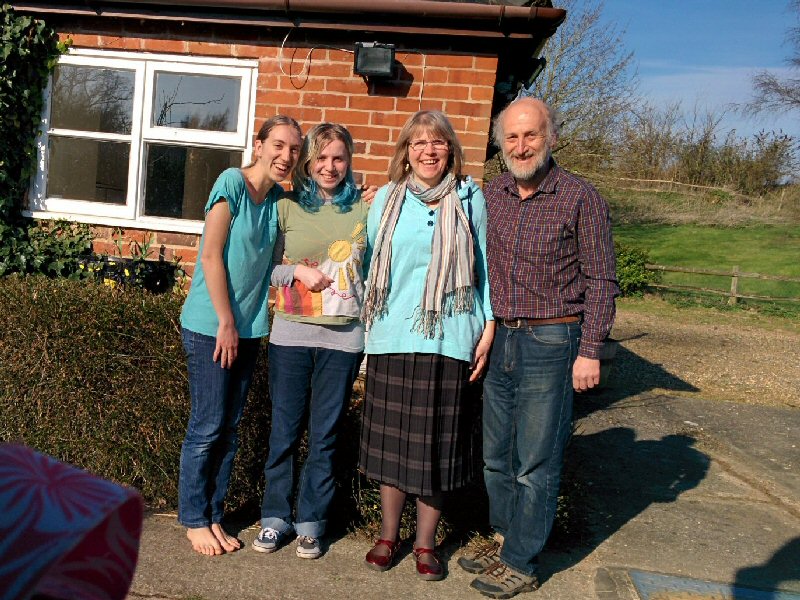 ---
Tina and Phil went to Bavaria by train in June as part of an organised tour. We stayed in a lovely hotel in Garmisch-Partenkirchen with a nice view of the mountains from our room.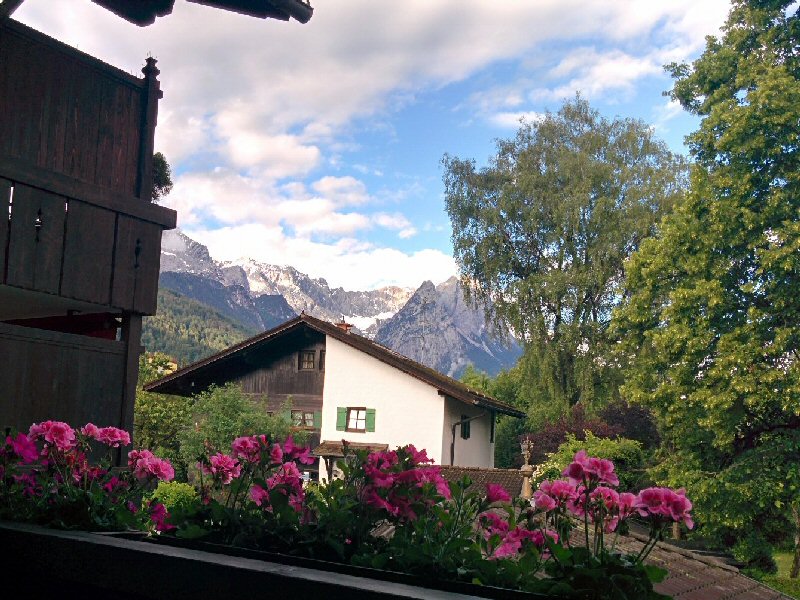 We visited Munich, Innsbruck, Oberammergau, Schwangau Castle,  Hohenschwangau Castle and Linderhof Palace: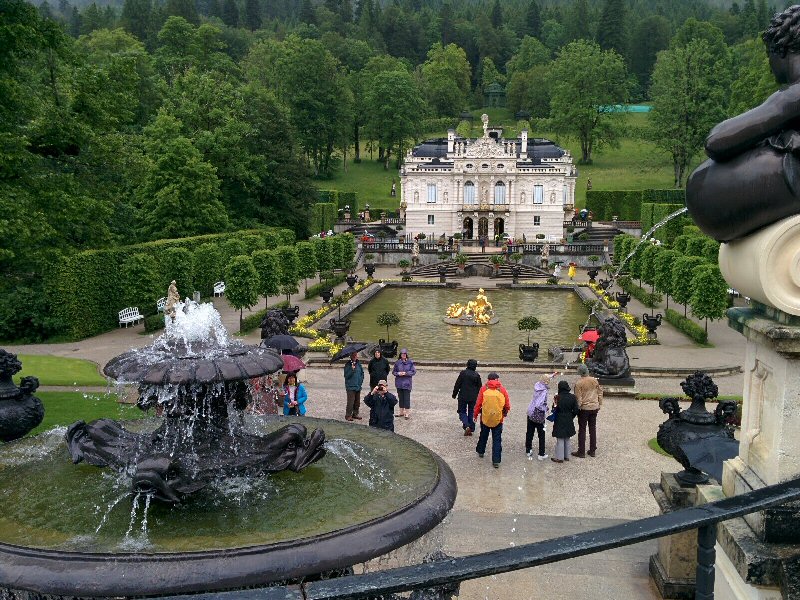 We also went on the rack railway to the top of  Zugspitze mountain, luckily on a clear day: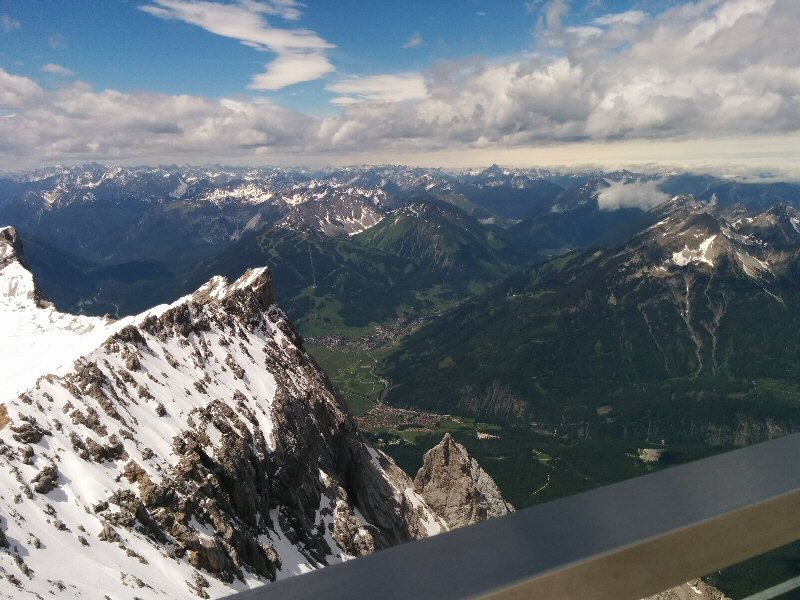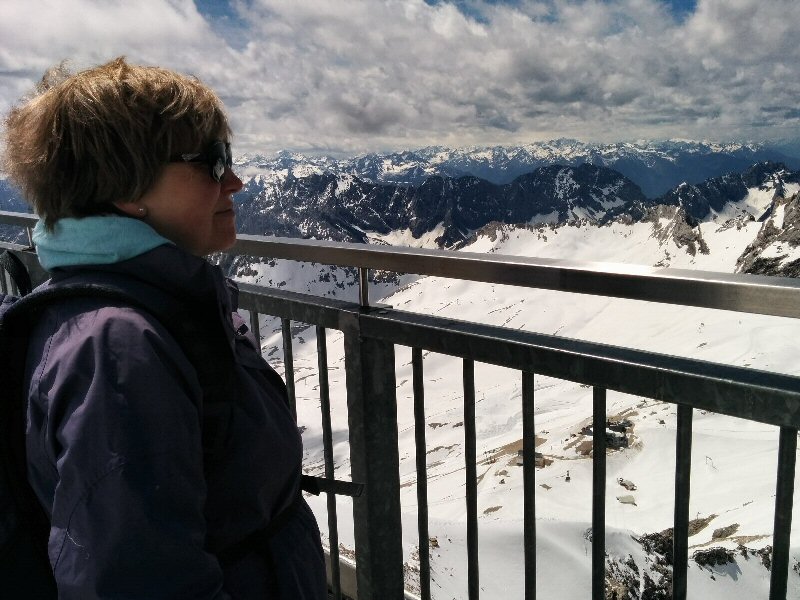 It was strange to walk in snow in the middle of June!
---
Our next holiday was a week in a cottage near the Northumbrian Coast. We had good weather, though being the east coast, there could be a biting wind at times. Visits included Lindisfarne, Dunstanburgh Castle, Alnwick Castle & Gardens, Bamburgh Castle and Berwick-on-Tweed.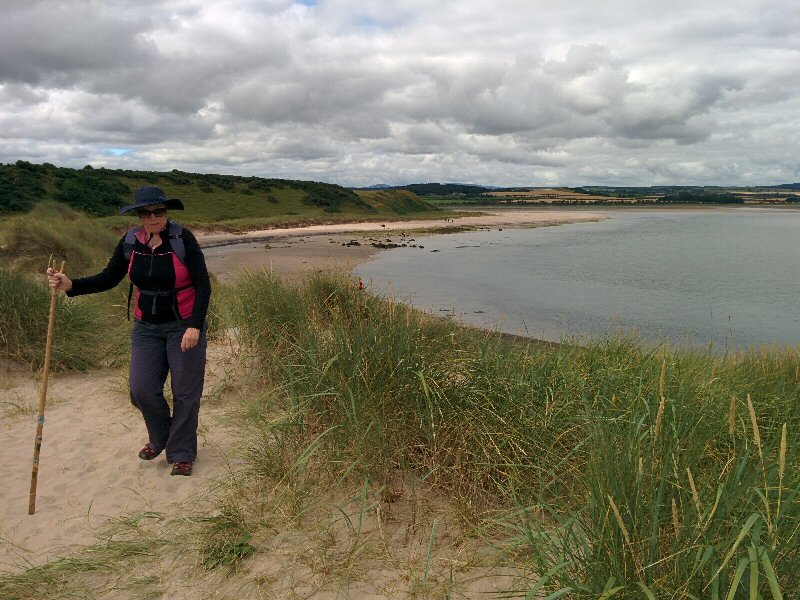 From there, we collected Gemma and Lucy from the train at Berwick-on-Tweed, then we all spent a week in a cottage in the Borders area of Scotland. A very pleasant area.
One day we went by train (via the new Borders Railway) to Edinburgh and found it very busy as the Fringe was on:
Unusually for Scotland, we had some really nice sunny days:
---
October saw Tina and Phil on the train back to Scotland, this time cruising the Caledonian Canal (including Loch Ness) from Oban to Inverness, via the Isle of Mull.
It was a wonderful week, and we had really excellent weather, especially for the time of year. The first colours of autumn were just starting:
We also spent a few days in Edinburgh playing tourists.
---
Our House
We finally got around to getting the living room redecorated, with the kitchen next on the list. Virtually the entire house and garden now has LED lighting of various sorts.