The Pandemic Continues
As with last year, Covid-19 continues to put paid to many of our plans. But we still have a roof over our head, food to eat and good health, so we've just had to make the best of it.
Tina
It has been a very long year!  Looking back, I find it hard to work out what has happened this year and what was in 2020.  Court sittings ramped back up to pre-pandemic levels.  Much continued on-line, including Spanish lessons, but in the autumn it was hugely enjoyable to return to dancing.  You can't really do that on-line, although some of us had a pretty good go!
I gave up training in March, with great relief; come September I was helping with Guides as the leaders who took over from me have moved away.  As I write, the unit's future hangs in the balance, but I am taking a back seat before they try to get me to run it again.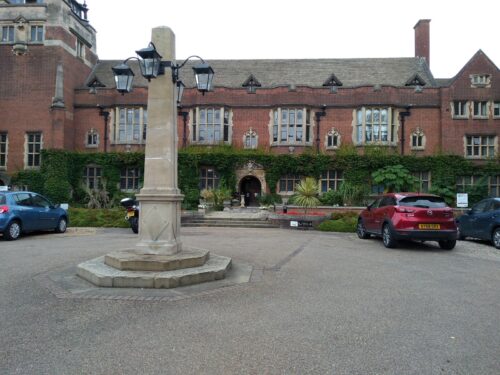 In August I went to Cambridge, to Westminster College, which is run by the United Reformed Church,  for a reading party to discuss the book "Dominion" by Tom Holland with like-minded people.
Even though church services were curtailed for much of the year, the admin was still considerable, and finding volunteers as we re-open seems to get harder by the week.  But the book group has continued without a break and we now have a hybrid format where a few of us sit in our front room while the rest Zoom in.  Isn't technology wonderful!
Phil
During lockdown at the start of the year, life became very routine and the most exciting day for me was an excuse to get on a train to London to get vaccinated.
It was an eerie experience seeing a deserted London – reminiscent of some of the more apocalyptic SciFi films!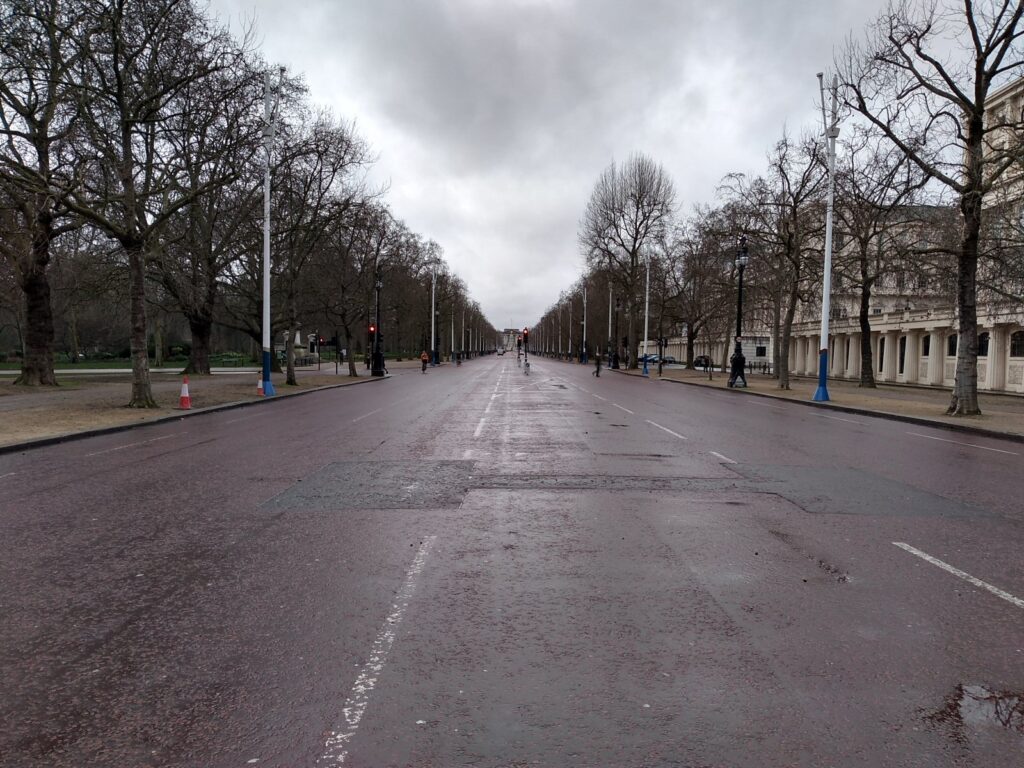 I am still doing odd bits of work for my former clients on "Zero Hours" contracts but increasingly prefer the months when I've no work to do and can get on with more interesting things..
I still find time to work on my Model Railway and later in the year, visit my local railway club, the Orpington & District Model Railway Society.
I continue to help managing the building and equipment for our Scout Group – see 2nd Orpington Quartermasters, but again, with the various restrictions, this has been fairly minimal.
My involvement with the  Orpington Liberal Club has continued to take a lot of my time. Again, with the various restrictions, we seem to be continually modifying the club to suit the various lockdowns. But we've stayed open throughout, albeit only supplying takeaway beer for much of the year. I spent a few months from January to March delivering beer by car – not always pleasant on dark misty evenings, but my customers were very grateful!
I was asked to build a simple environmental monitor for a friend, which got me interested in the subject, and I built a more complex setup for our house. This measures air quality (PM2.5 and PM10), temperature and humidity. A separate sensor monitors the water level in our underground storage tank (which we use to water the garden). This is the internal unit installed in our garage:

The temperature, pressure and humidity sensors are in the 3D printed "Stevenson Screen" on the wall of the garage:
---
Rocco
Rocco is now nearly five, and has really become a (mostly) really well behaved dog. He still attracts attention by his youthful exuberance (particularly first thing in the morning) and of course his liking for sticks.
He finds many friends whenever he joins us in the pub, and once the excitement is over, just goes to sleep.
---
Holidays
We didn't try to organise any serious holidays this year, and in retrospect, very glad that we didn't.
Just after the lockdown easing in May, we joined some friends for a week on a canal boat near Stoke-on-Trent. The weather wasn't always that kind, but it was nice to finally escape Orpington!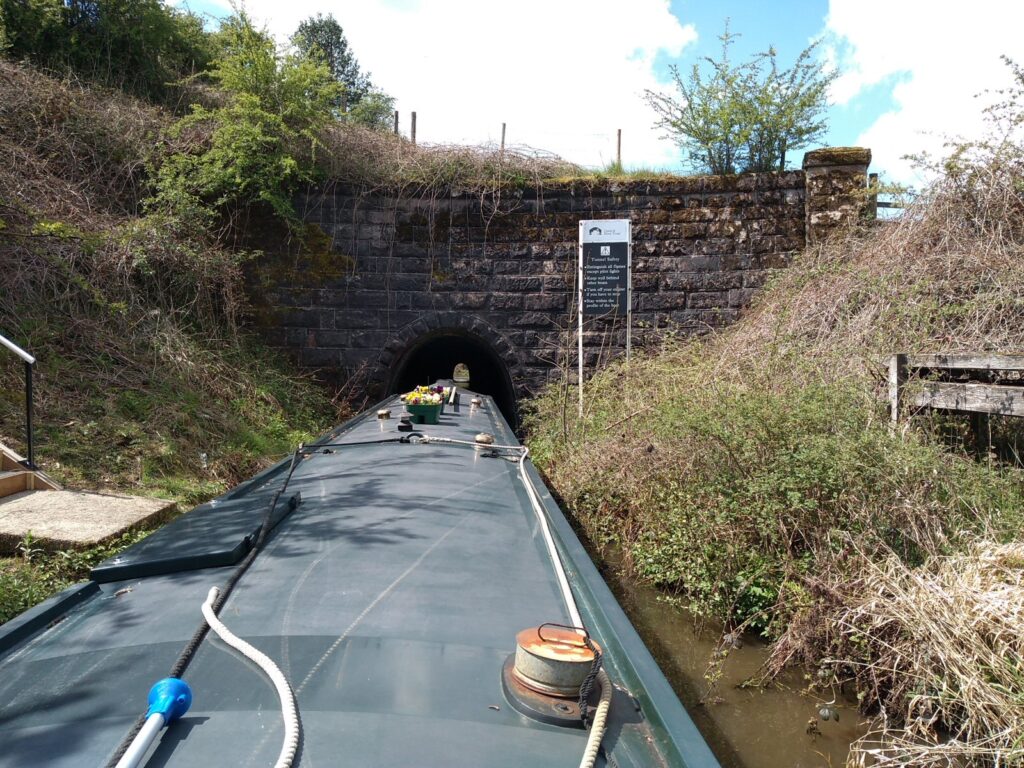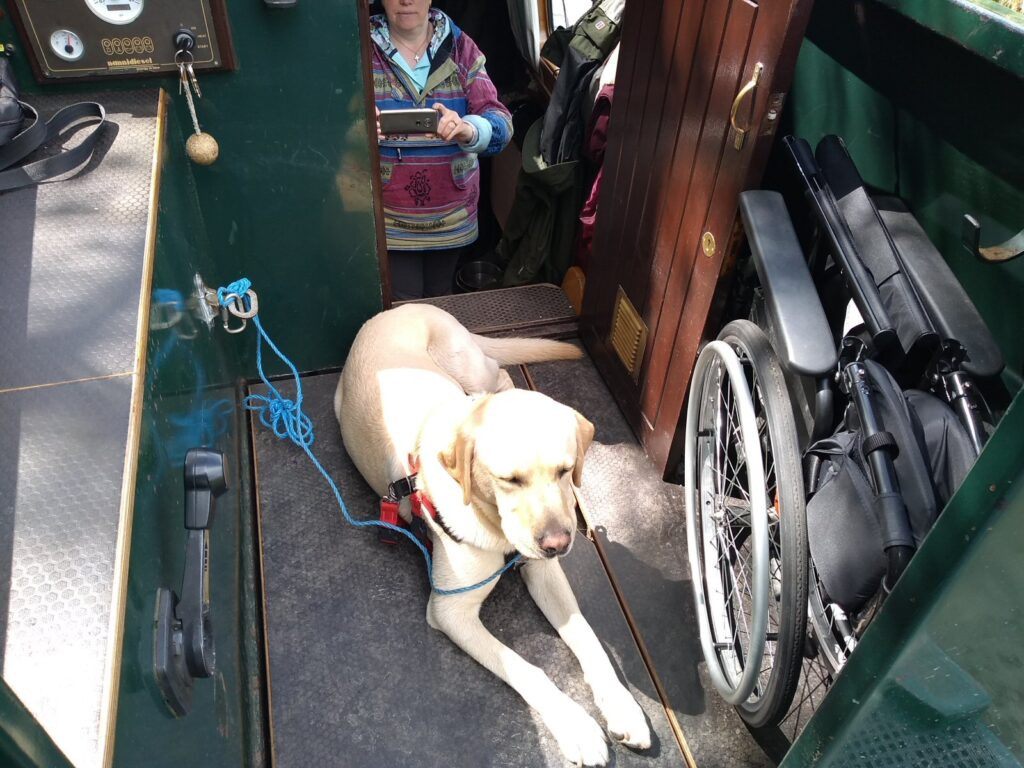 We managed a day trip to Hastings on the train in July: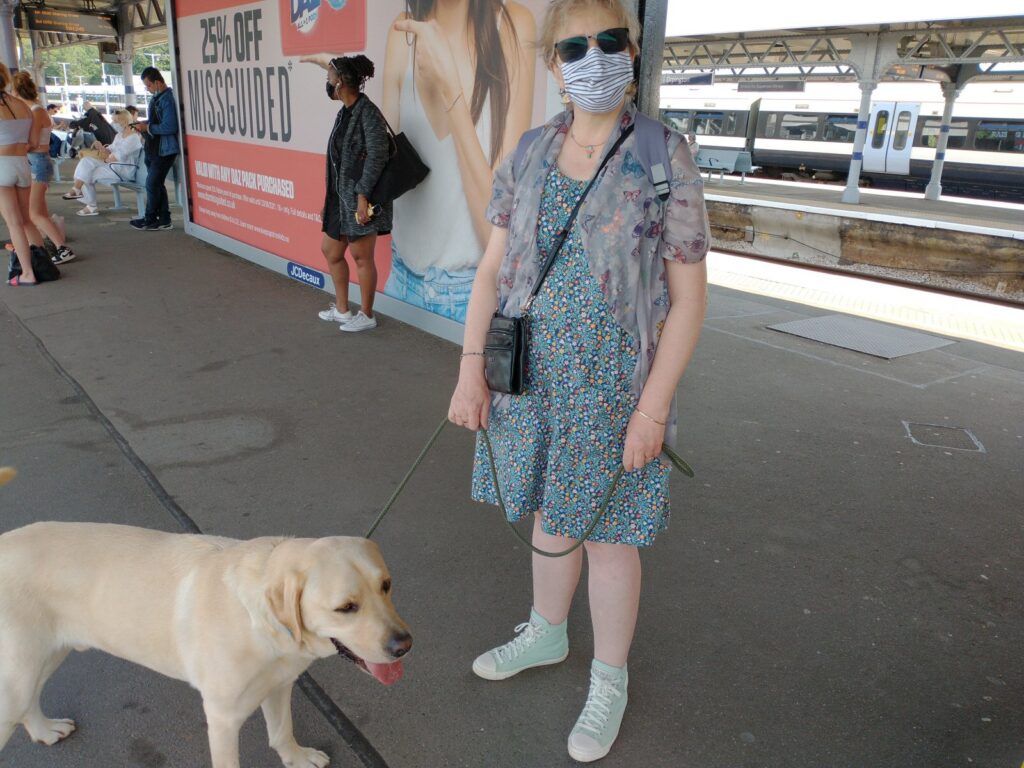 A stroll along the beach, a nice meal in a pub, good views and a snooze on the train on the way home!
In August, we visited Gemma and Paddy in their new home in Birmingham. It was nice to see them for the first time in a year, and we had some lovely walks: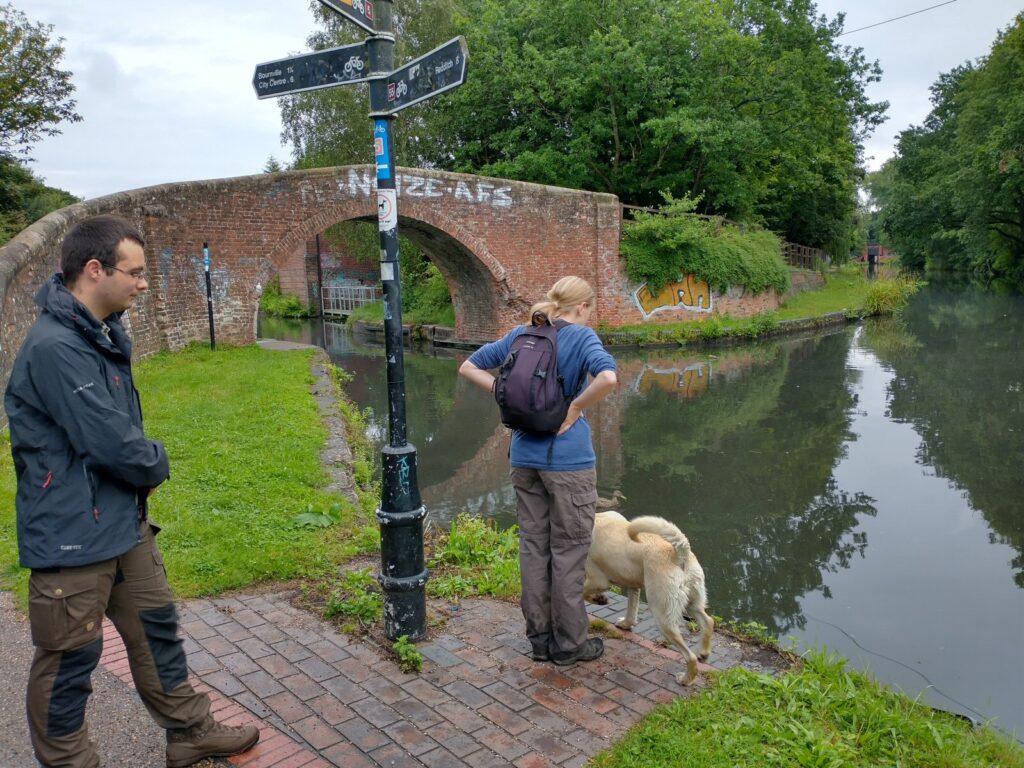 The entire family finally got together in September when we booked a cottage in Polstead, Suffolk. We've stayed here many times over the last 20 years, so the area is very familiar.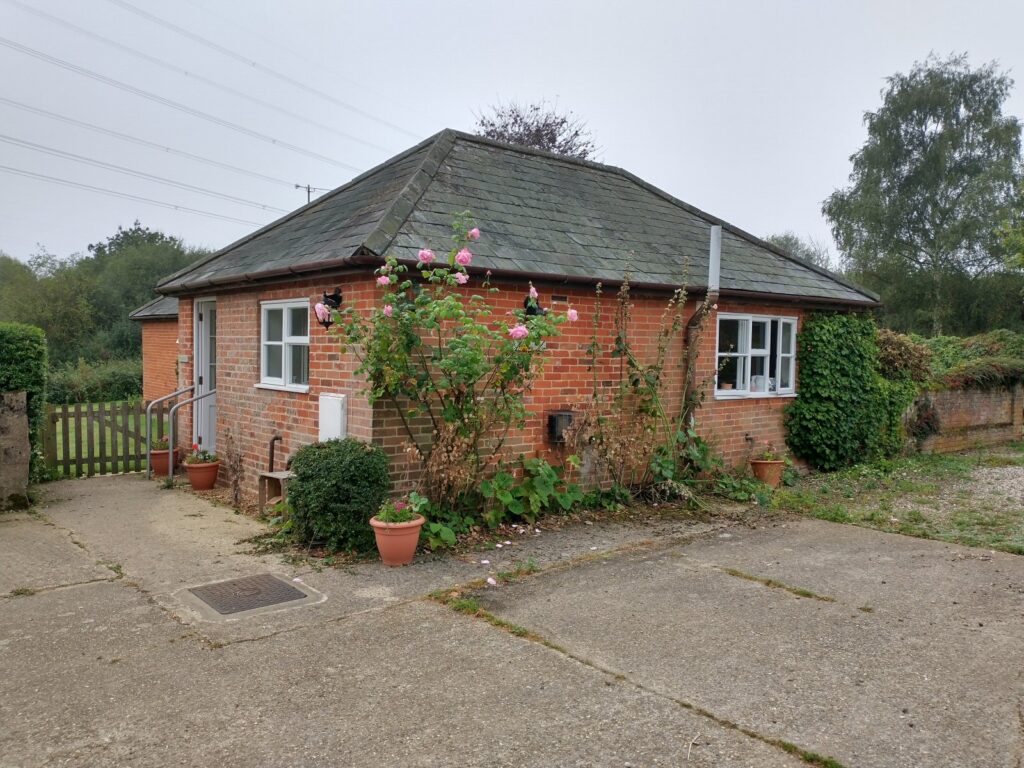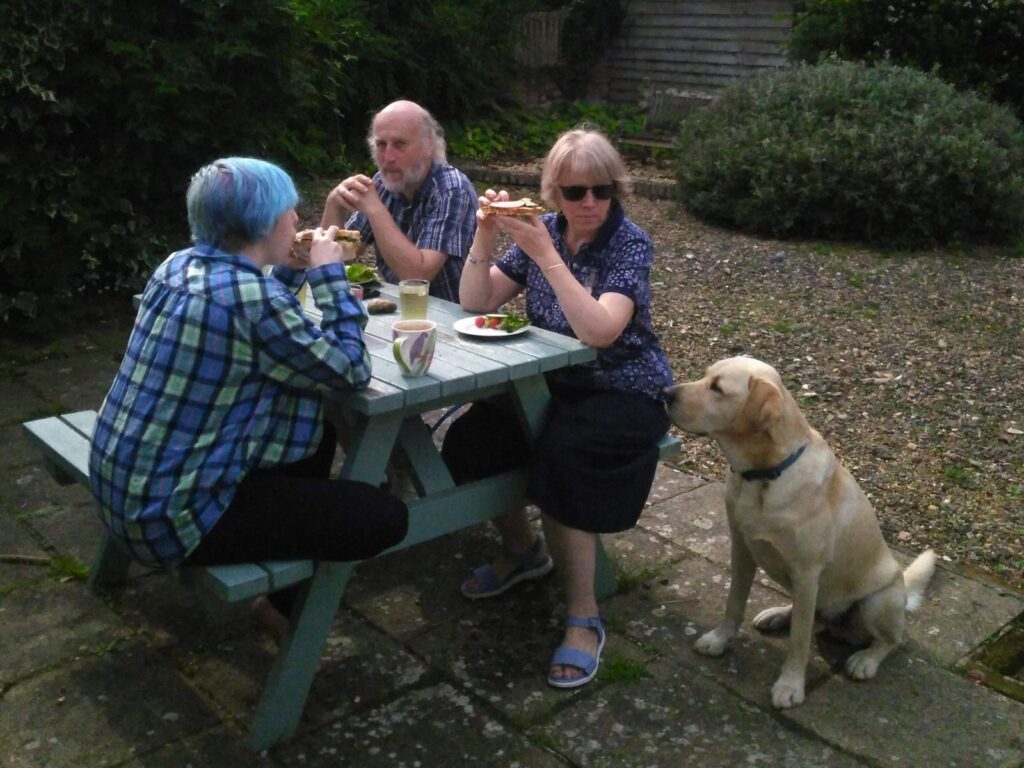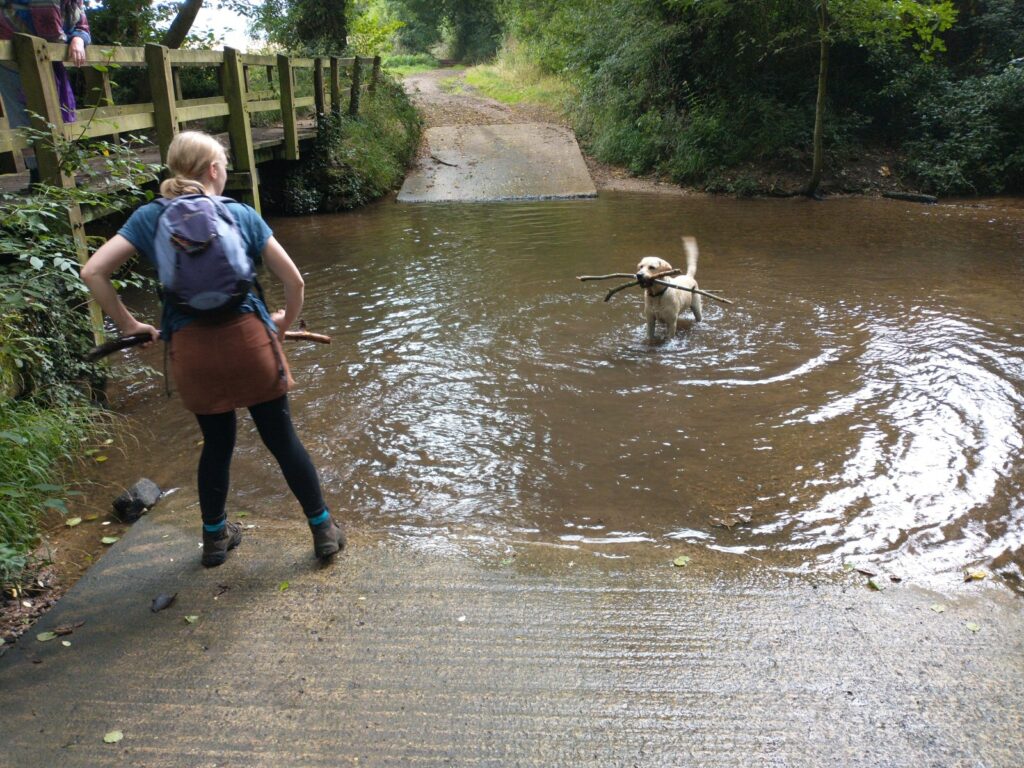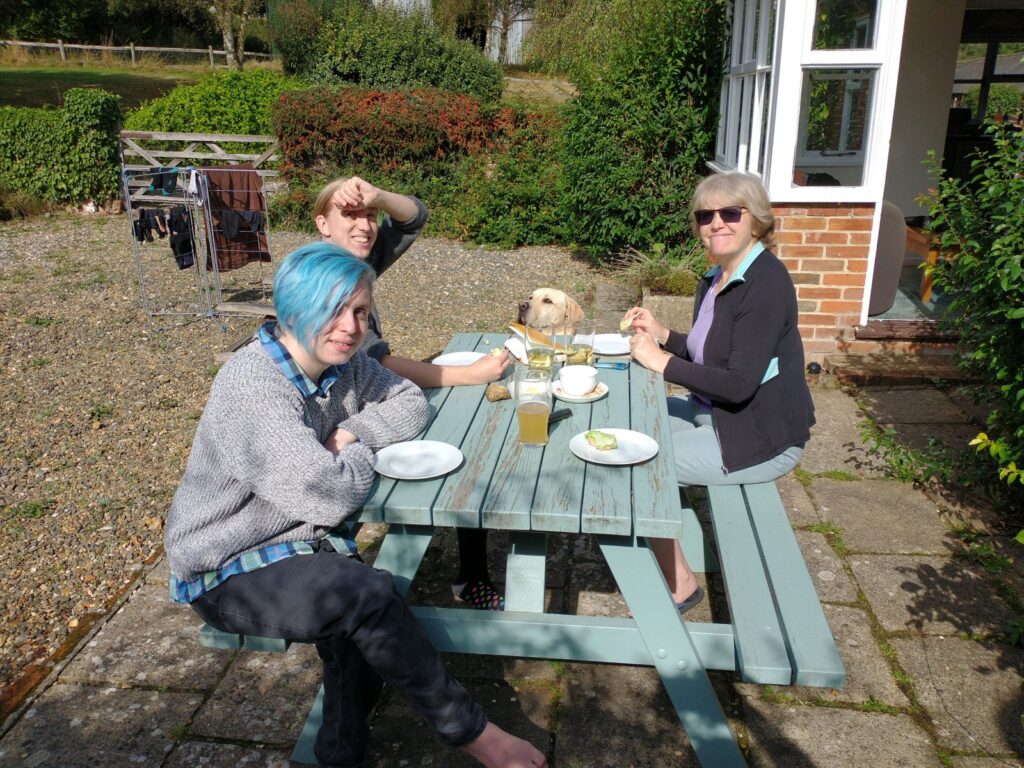 We visited the East Anglian Railway Museum again, which was very interesting for us, albeit not for Rocco…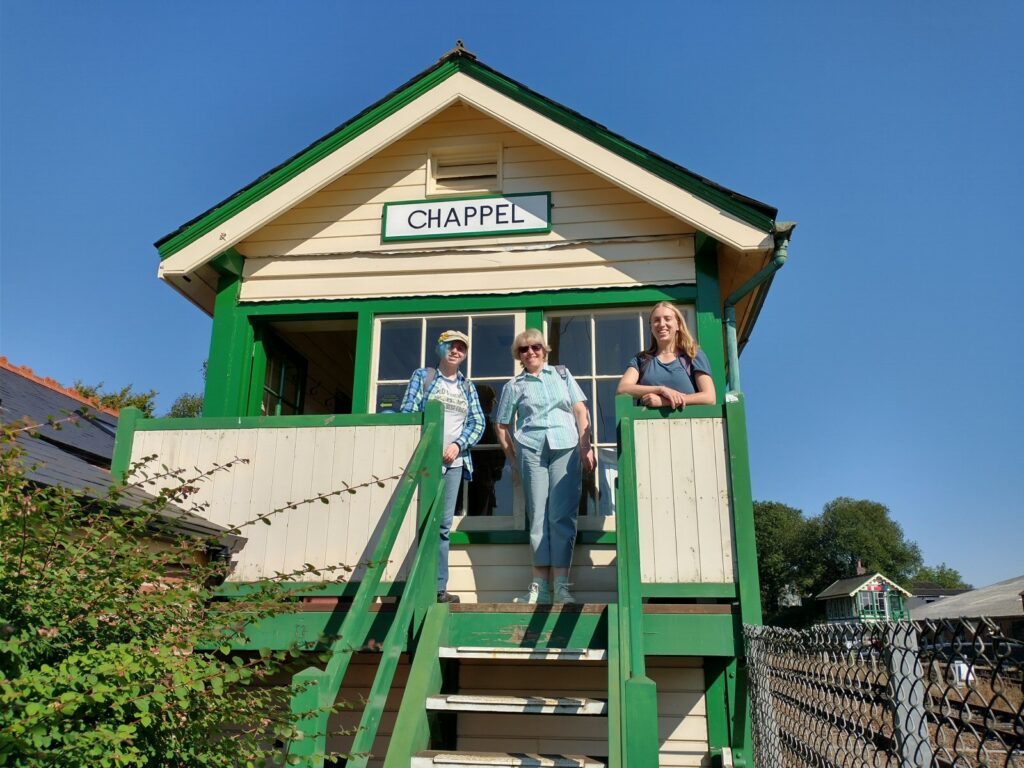 and stopped by the nearby Chapel Viaduct "the largest brick built viaduct in England."
and finally got to the village pub (which had been closed for holidays earlier in the week):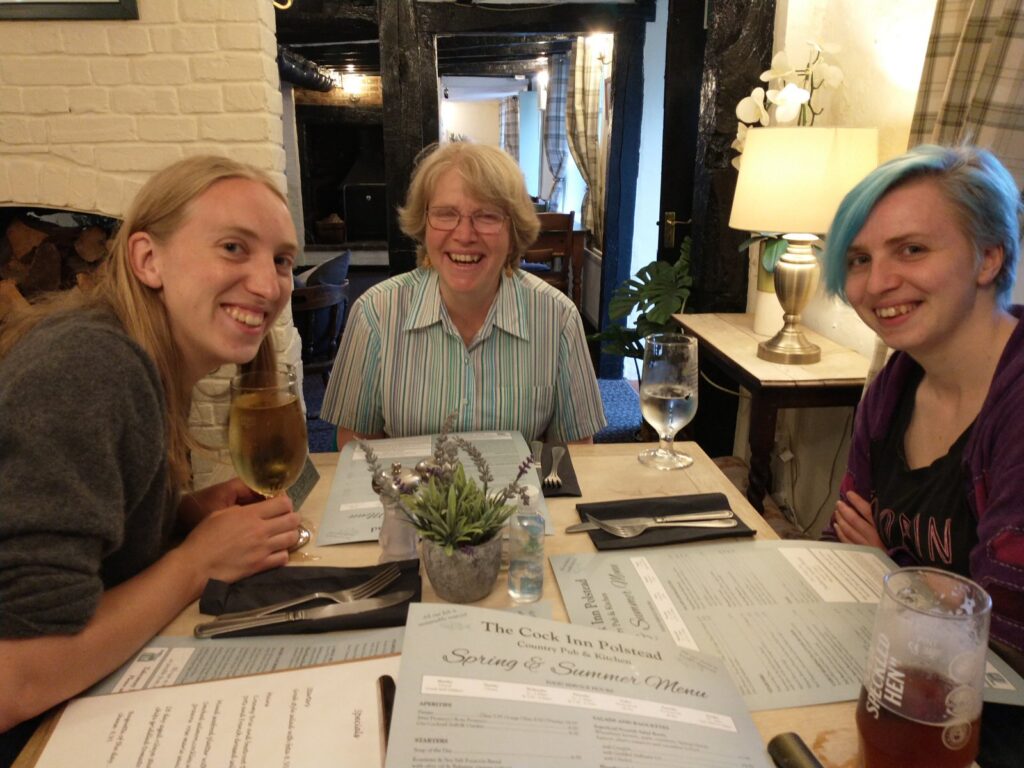 ---
The House
The main change this year was the replacing of one of the garden sheds. It was over 30 years old, full of woodworm and gently rotting. All of which was fine until the roof started leaking as well!

This has now been replaced with a new one, shown here partially constructed: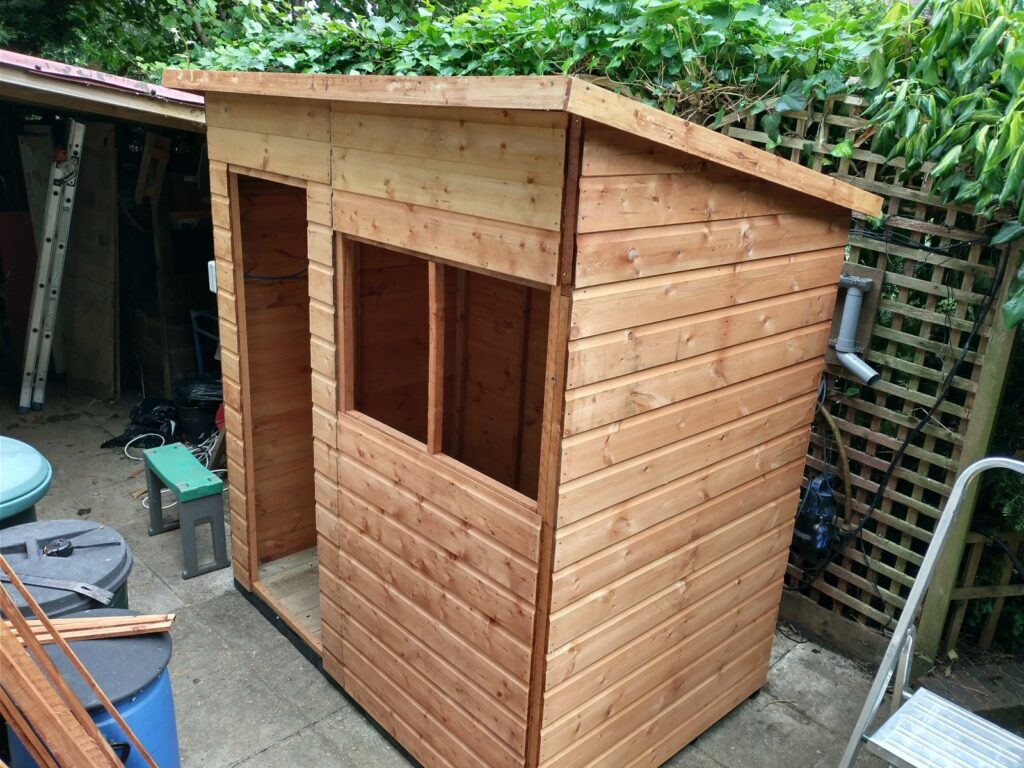 I did have a nice bonfire in December to burn the old shed!

We finally decided to donate our trailer tent (which we'd not used for four years) to someone who could make better use of it. This freed up a lot of space in the garage, so the opportunity was taken to improve the storage.